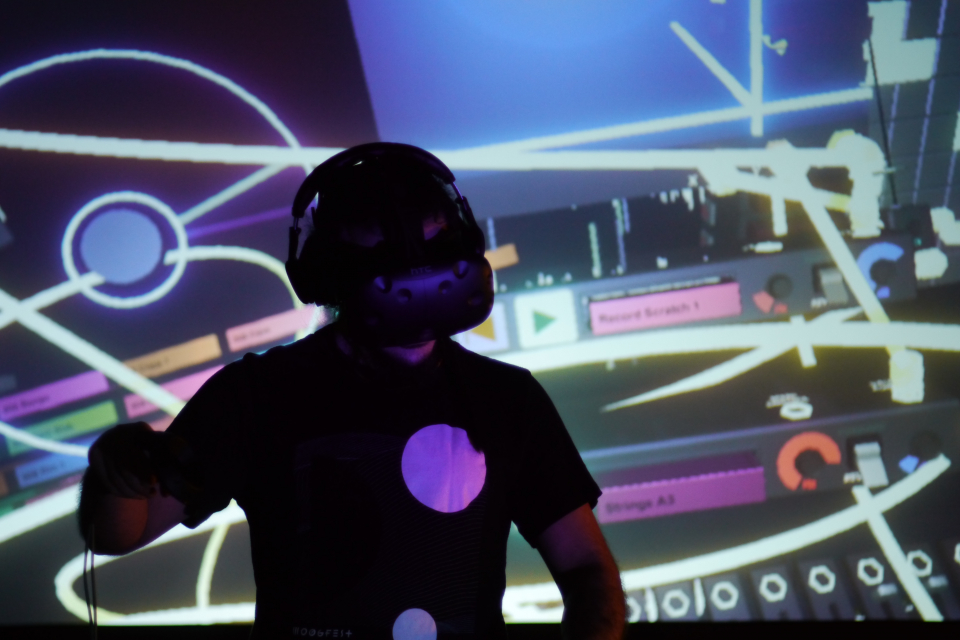 Daniel Sabio, known fondly in tech circles as The Glad Scientist, produced the first virtual reality music concert and he's gone on to repeat it at multiple festivals in 2017.
In late January, he presented one of the first live virtual reality concerts in North America. Performed live and in person in Atlanta, Singularity: A Future Reality Sound Experience was an immersive sound experience focused on the emotions, themes, and interactions of technological singularity.
The concert allowed the audience to enjoy music in a completely new form by placing them in the point of view of the performer, in sync with his movements, thought process, and even mistakes. Utilizing a virtual reality system (HTC Vive) as a performance tool, he shares his view and control of a virtual ensemble of electronic instruments in real time with his audience.
The Glad Scientist is no stranger to working with art and technology, his works being invited worldwide to as diverse venues as the International Symposium of Electronic Art and Chale Wote Street Art Festival. He sees virtual reality as a perfect medium, a marriage between immersion and exploration.
Sabio explains, "As a musician, I'm really drawn to the interface design of electronic instruments. SoundStage VR allows seamless access to my imagination, providing the perfect marriage between physical music hardware and digital music programming."
The FutureArt Technologist behind The Glad Scientist continues, "I love this medium. Even though I'm one of maybe seven (out of 7 billion) doing this, I take special care with the development of each set to innovate, arranging the virtual space to bring out the intricacies of the performance's conceptual themes, fitting them into the specific architecture of the venue."
Already working with local VFX artists, choreographers, and musicians to create hybrid Real-Life/Virtual performances, The Glad Scientist has scheduled several performances in 2017 (including a private performance at SXSW, and a video game inspired performance at MomoCon this weekend), which will include the addition of controlling lighting and live video through additional software layers he is writing himself. He's also been in close contact with the developer of SoundStage to help inspire elements of the music production software for a performance setting.
Here, Sabio illustrates how art plays a big role in STEM.
What makes a young Puerto Rican growing up in Georgia want to learn to program computers for music and art?
Good question. I feel as though I've lived parallel lives within one shell. I grew up in Augusta, Georgia, playing in James Brown's old house, learning violin from the age of three. So music, from a soul level, has always been a large part of my being. Simultaneously, I had a brother who was a year older than me that talked all the time. It sounds insignificant, but a product of that environment, it made me super introverted. I stared at things for a long time and really took them in. I vividly remember staring at the explosions that were made on our TV screen when playing Nintendo when I was about 5 and thinking "How is this made? That's what I want to do with my life." Fast forward 10 years and I learned it was made through a thing called computer science, so that's what I decided to study when college came around … then Georgia Tech made this new major right before I got there (Computational Media) that was a combination of computer science and art.
Since it was new, I was able to create my own version of it. I took classes like African Film and the Digital Narrative and Experimental Digital Art and by the end of it I didn't want to make video games anymore; I wanted to make transformative experiences fueled by technology. Now, a decade after I stepped foot on GT campus, I've had works in festivals worldwide, from blink-driven beat machines to interactive waking-life lucid dreams to taste-based experimental installations. I had become intensely fascinated with immersive enclosed experiences for individuals…and then virtual reality emerged as a viable medium.
What is a Live VR Concert?
It is not what comes up when you Google it. It's not simply a concert that you record with a 360 camera, and yes you have to get off your ass to come see it, mainly because there is something magical about the people in the room with you when you go and see a live show that cannot be replicated at home. Currently, I use the HTC Vive VR system and a software (SoundStage VR) to control synthesizers, drum machines, samplers and other instruments all in a virtual space. I share this space with the audience through a large projection screen, enabling them my shared consciousness to see what I see, the hesitation I make, the choices I make as a creator, and even the mistakes as I perform (too often artists pretend to be perfect). The virtual environment is the ideal interface for me, as it gives me the look and feel of hardware machines (I literally whip cables around between them) and the affordances of low-level computer programming that I'd get from coding languages like Max MSP or PureData. Interface design is something very close to my heart, as it reflects directly the aesthetic experience of creation, and this virtual interface just feels like heaven and space at once.
What's next for The Glad Scientist?
I have shows booked up until Sept already. These range from a sold out festival (Bass Coast) to an experimental art party called Adventure Time ATL, and also an anime convention. At the intersection of coding, music and gaming, my fanbase is diverse. With each of these shows, I have worked sleeplessly on crafting conceptual elements to enhance my experience as a performer, and keep things fresh for repeat audience members. For example, my first public performance focused on the relationship between oneself and the technological singularity (when artificial intelligence far outpaces human intelligence and we have to re-examine our existence and purpose). Creating these concepts also allows for a more performative aspect to emerge, where I am able to act out specific themes in the musical work as I am controlling it…because in VR there is no gravity, and in sharing my view I can even hint at lyrical content and references in samples I use. For the tech folk, I have also written hidden layers of code to run beneath SoundStage that control video elements on additional screens, for simultaneous audiovisual control for an upcoming piece focused on the concept of ancient memories from the future being experienced in the present.
How do you feel about the current state of minorities in tech?
I feel the momentum. I think it's starting to happen that coding is cool now? It's not so much that you're nerdy and an outcast anymore…the true power is appreciated, and people respect that. When half of our daily lives is digital, being able to disrupt and reroute the system at large means being able to rewrite reality as we know it. I think the beauty in it is that we are playing a sport that literally has a level playing field … anyone with access to a computer at school can start to learn to make websites, start coding, earn income and change their entire reality through a digital machine. It's less genetics and more determination. Honestly, I wouldn't be surprised if a virtual reality programming language takes reign as most popular in the next ten years, enabling the next generation to literally create and modify worlds in real time. Understandably, open data sets to real-world numbers mean instead of skipping lunch to play cards we could see kids in VR taking bets on which one has the best solution to their city's water crisis (complete with 10-year projection animations). Excuse me for the sidebar of optimism, however.
What advice would you give your 12 y.o. self?
My 12-year-old self, hmmm. His feet were too big for his body … but those Iversons were fly. I think the best piece of advice I discovered (a couple of years later via Sñr. Fiasco) that I have passed on to all of my nieces and nephews is "there is no cool". Do what you do and the right people will find you. If that means writing long poetry after school on the playground wood chips under a slide…or playing football because you like the feeling of that squishy pad pushed up against your forehead, do it. We don't know if there's another life, and there's only one day you live, and that's today. Breathe it, smile, and be glad.
For more, please visit www.thegladscientist.ninja.