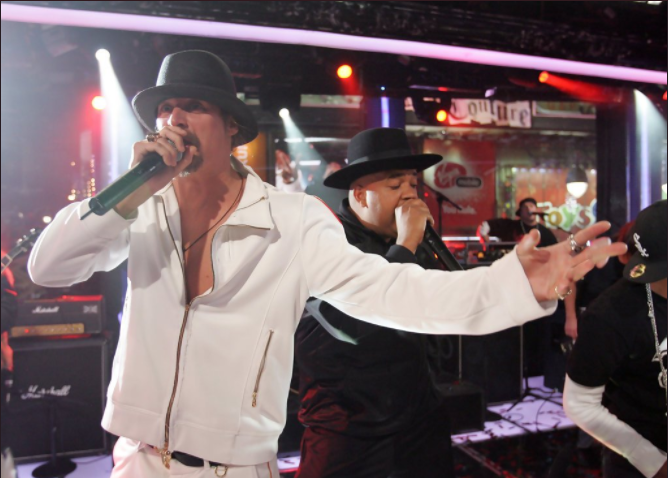 In a move that will make most Black people roll their eyes in disgust, Kid Rock has announced his intentions to run for major political office as a conservative in the state of Michigan, "Fox News" has reported.
Born Robert James Ritchie, the musician once eagerly performed with Black rap legends only to later defend the use of the Confederate flag, which is antithetical to anything that hip hop stands for. The staunch Donald Trump supporter said via social media on Wednesday that his website KidRockForSenate.com was authentic and to stay tuned for "a major announcement in the near future":
I have had a ton of emails and texts asking me if this website is real… https://t.co/RRVgISDFeq The answer is an absolute YES. pic.twitter.com/uYCUg6mjW1

— Kid Rock (@KidRock) July 12, 2017
Stay tuned, I will have a major announcement in the near future – Kid Rock

— Kid Rock (@KidRock) July 12, 2017
Republicans in Michigan have been reportedly excited to have Rock run on the GOP ticket in 2018 to challenge incumbent Democrat Debbie Stabenow, the senior US. Senator from Michigan.
Michigan GOP press officer Sarah Anderson said it "would be awesome" if Kid Rock did run for office.
Rock, an outspoken conservative, was a huge supporter of Mitt Romney's run for president against Barack Obama during his 2012 campaign. He told The Guardian in 2015 that he's a Republican on certain issues, but is a moderate on other issues.
"I am definitely a Republican on fiscal issues and the military, but I lean to the middle on social issues. I am no fan of abortion, but it's not up to a man to tell a woman what to do. As an ordained minister I don't look forward to marrying gay people, but I'm not opposed to it," Rock said.
Rock caused a cultural skirmish earlier this year when he, right-wing rocker Ted Nugent (also from Michigan) and former Republican vice presidential nominee Sarah Palin visited President Donald Trump in the White House. During the visit, the three took the time to mock a portrait of former Democratic presidential nominee Hillary Clinton, which came off as juvenile and uncouth for such high-profile political personalities.
Many Black people will also find it hard to reconcile the fact that Kid Rock is the same person who was honored by Berry Gordy and performed onstage with Stevie Wonder during the "Motown 50" celebration in Detroit in 2008.