Aeshia DeVore Branch's mission to end childhood obesity will motivate everybody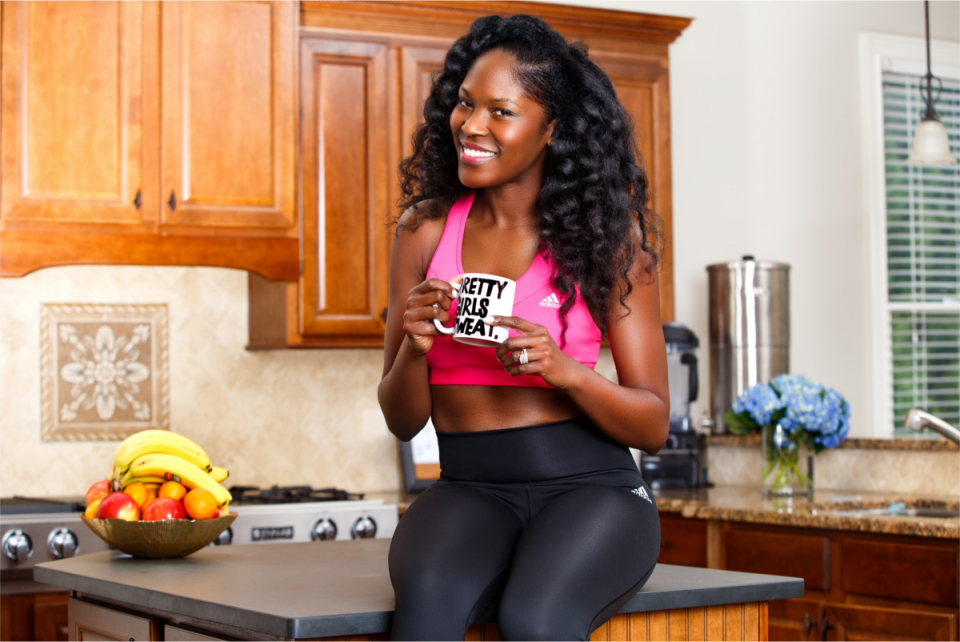 Aeshia DeVore Branch didn't take it for granted that September was Childhood Obesity Month because she takes her fitness and eating habits to heart. To really spread the word, she hosted her inaugural Pretty Girls Sweat fest with Keri Hilson, Rasheeda Frost and Genise Shelton on Saturday, Sept. 16, 2017, at Georgia Freight Depot in Atlanta. In fact, since it inception in 2011, the Pretty Girls Sweat organization's grassroots movement has educated and activated over 20K-plus girls, ages 13-22.
Over 500 women experienced a fun-filled day of contests, live performances and heart-pumping workouts lead by popular fitness instructors Alana Sanders, Chelcie Scott, Deniece Griffin, Lauren Powers, Dr. Crystal Jones and Lauren Smith. Hosted by TV One's "Sister Circle's" Rashan Ali, the event also honored the following "SWEATlebrities" Frost, Hilson, Nic B, Estelle Archer and Zakia Blain for utilizing their social influence to promote health and fitness. Shelton of BRAVO's "Married to Medicine" also made a special appearance to educate attendees on the importance of living a healthy lifestyle.
Branch is an inspiration. Read what she has to say.
What is your day-to-day like at work?
As soon as I wake up, around 6:30 a.m., I check Instagram, scan my emails, and look at my Apple news feed. This habit may be frowned upon, but it perks me up when I'm tired. Then I act as a hairstylist for my two girls and get them off to school. If we walk, I drop them off and then keep walking while listening to a podcast for 45 minutes. I love NPR's "How I Built This," "The Tim Ferris Show" and Kid Fury and Crissle's "The Read" right now.
The first of the month is my busiest day because that's when we process general memberships for our college chapters. It's such an exciting 24 hours filled with the energy of young women investing in their health. The beauty is that my intent isn't to sell our memberships but to unite people through motivation and education. So it's a blessing that our for-profit business model keeps us operating and simultaneously helps fund our non-profit programs through the Teen Diaries Foundation.
Productivity is important to me, so I set the following calendar alerts on my laptop and sync it with my phone to stay on track.
7:45 am – 10 am /// create: event activation ideas, writing, editing content
10 am – 10:30 am /// emails: sending feedback to interns, supporting ambassador needs and replying to vendors and customer inquiries
11 am – noon /// workout: yoga, Pilates, or dance
1pm – 2 pm /// educate: podcasts, books, YouTube videos
2:30 pm – 4 pm /// connect: social media, emails, business calls
Fail to plan or plan to fail. At the end of the day, I write my to-do list for the next day. As a leader, I have to create clarity out of chaos.
What inspires you to show up at work every day?
I have this relentless, fire inside of me to get things done from the moment I wake up until the minute I pass out at night. I am also inspired to be a visionary and leader of a brand and a movement that will outlive me. Life is short, and I have an innate drive to succeed and to fulfill my mission to end childhood obesity by inspiring women to make fitness fun and become health leaders. I want to leave a legacy and live my best life.
How did you determine your career path?
Every career move was divine intervention and unintentional. I grew up wanting to be a model and an architect. Modeling happened when I got signed to Wilhelmina NY, but I was uninspired to pursue a career that didn't provide enough feedback. In college at Middle Tennessee State University, I studied mass communications and minored in psychology on a full scholarship and was leaning toward a career in advertising/PR but was pushed towards a career in TV production when my internships and Edelman PR and ABC channel 7 weren't hiring due to September 11 (9/11). So while gearing up for my second interview with a successful PR firm, I took an interview @radical.media, a TV/film production company, and got offered a job within a few hours as a receptionist. I didn't want a receptionist job but accepting the offer was one of the best decisions of my life. I met one of my all-time favorite mentors, director Dave Meyers, and carved a path from being a receptionist to music video coordinator and event production to TV producer on Sundance's docu-series "Iconoclast."
Having my first daughter changed the trajectory of my career. I was inspired to travel less and work on projects that were more meaningful to girls and me. And as a former high school athlete, my life came full circle with the development of PRETTY GIRLS SWEAT.
What industries connect to your career choice?
Media, music, and health/fitness.
Describe the skills that wil be essential to future business leaders and innovators.?
Embracing and learning the tech space. Without it, you'll fail. It's also important to know which mediums hold your customers' attention, meet them where they are, be authentic, ask questions, listen deeply and build trust.
Establishing a great company culture also drives business results. I work hard to bring people together around a common purpose and a spirit of innovation in the health/fitness industry. Our team has an intense desire to serve in new ways, form creative partnerships, and understand the value of learning and gaining perspective from innovators in other industries.
Define innovative methods you apply to your business and life.
I take the time to connect, coach, mentor and develop the young women I work with as well as my daughters. Constructively challenging their thinking and behavior as well as stretching them to create leads to innovation.
As a for-profit motivated by social change, empowering employees to take the initiative is a must. I'm constantly trying to encourage a "curious culture" amongst a culturally diverse team that challenges the food and fitness industry. We share information using GOOGLE DRIVE and apps like GroupMe to generate an informal structure for voting on and rolling out new concepts.
Describe how you set goals and evaluate your success.
S.M.A.R.T goals are my go-to method. I operate like a collegiate by setting specific, measurable, attainable, realistic and timely goals during the fall, spring and summer semesters. Our three to five-year long-term goals are included within the first few pages of our operations manual, so everyone is on the same page, pun intended. These goals, which focus on customer service, giving back, increasing profits, and growth, are embedded in the fabric of our story. It's important to speak those goals into existence and consistently articulate our mission statement, reflecting the reason why PRETTY GIRLS SWEAT was founded.
Who do you consider your peers in your field? How have they supported you? What best practices have they shared?
On the philanthropic side, Carol Archer (Azul Airlines), Dawn Reese (Style Haul) and Jeanette Jenkins (The Hollywood Trainer) have provided inspiration, guidance, and mentorship along the way. I've learned the power of persistence, organization and being kind to others by mirroring their actions.
My husband, who is a seasoned veteran in the music industry, managing some of the most legendary performers is my biggest cheerleader and encourages me never to give up because he's confident I'll be his biggest client someday.
Virtually Gary Vaynerchuk, Tim Ferris and Myliek Teele keep me motivated through their podcasts and online content.
Name your favorite role models for success in two different industries.
Oprah Winfrey – billionaire media mogul, talk show host, actress, producer, and philanthropist
Sarah Blakely – billionaire businesswoman and founder of Spanx.
Names three books that changed how you saw life that you would recommend to others.
1. 7 Habits of Highly Effective People by Stephen R. Covey, a game changer
2. The Four Agreements by Miguel Ruiz
3. Year of Yes by Shonda Rhimes
Describe why lifelong learning is important to you.
Knowledge is power. It sounds cliché but I can't stress enough how accurate that statement is. In order to stay well-rounded, competitive and increase your rate of success, I must be dedicated to the concept of lifelong learning. Learning is more fun for me now than it ever was in school. Educating myself on topics that I'm curious about helps me form new concepts and ideas.
Describe the voice of success that you hear in your head.
Being able to provide for my family, inspiring my children to pursue their passions, living a healthy lifestyle, positively influencing young women and experiencing new things as often as possible is a like a looped music track in my head.
Community success based on what you do in the community means what to you?
Helping girls realize that they too can be leaders too by having other girls follow their example and not just their advice. That's when real change begins.
Technology plays what role in your daily life?
Technology is the foundation of my business and personal life. Without it, I'd be screwed. From content creation to communication to e-commerce, I have to carry my laptop and phone everywhere to get things done.
What software and technology tools have made the biggest difference in your life?
Google Drive, Google Hangouts, MacBook Pro, and Gimp (a graphic design editor).
Define your personal culture.
My culture is embedded in the fabric of my upbringing, relationships, and morals. My parents are Jamaican and American and I grew up both on the east coast in NYC and in the south in Nashville. I'm a unique hybrid of all that. I thrive on connecting with others through an active lifestyle, spending quality time with friends, family and co-workers and being a good person who cares about the needs of others.
Independence, individuality, and authenticity are also necessary. I'm simply a young entrepreneur mom that incorporates sleek or wild hair, light makeup, and athleisure + bright and fun fresh clothes into my daily style.
Let's not forget…
Childhood obesity activist | Wellness Curator | Philanthropist
How does music impact and influence you?
Music is life. It motivates me, calms me, and sets the stage for my activities. iTunes and Spotify are like my therapists. I enjoy everything from Beyoncé and trap music to 90s R&B and Hip Hop (Biggie, Tupac, No Limit, Triple 6 Mafia) to the nostalgic classics I listened to with my parents growing up like Hall & Oates, Bob Marley, Luther Vandross, Freddie Jackson, Billy Ocean, Bill Withers, and Michael Jackson.
Describe your favorite vacation spot.
I'm such a hotel snob. My favorite hotel is the Four Seasons, formerly the Viceroy, in Anguilla. I love St. John for their beaches. And Jamaica is a must for good food, good music, good people, and good vibes.
If you could change one thing about the world, what would it be?
I wish the education system was developed to cultivate and fertilize the strengths and passions of our youth.
If you could change one thing about yourself, what would it be?
As a mom, I like to please everybody the best I can which includes saying yes to every birthday invite, volunteering to be a basketball and track coach, or supporting every teacher request that comes through my inbox, but sometimes, I just need to say no. I have to know that my kids are still going to love me if I can't do it all. As a part of my time management routine, I'm also incorporating delegating into my personal life way more.