8 'House of Cards' crew members accuse Kevin Spacey of sexual harassment
The fallout from infamous Harvey Weinstein sex scandal continues unabated as yet another Hollywood titan has come under fire for serial sexual harassment over the course of several years.
Kevin Spacey, the star of the Netflix phenomenon "House of Cards," has been accused by at least eight male crew members of various forms of unwanted sexual advances, touching and using his power and status in the industry to intimidate the victims into silence, CNN reports.
One former production assistant claimed Spacey sexually assaulted him while driving with the star to the Baltimore set. As they neared their destination, Spacey, who was driving, put his hands down the assistant's pants. The production assistant told CNN that the touching was not consensual.
"I was in a state of shock," he claimed. "He was a man in a very powerful position on the show and I was someone very low on the totem pole and on the food chain there."
The assault did not stop once they arrived on set,  the unnamed assistant said to CNN. He relayed that he found himself cornered after helping Spacey into his trailer.
"I told him, 'I don't think I'm OK with this, I don't think I'm comfortable with this,' " the production assistant allegedly told Spacey. This angered the star to the point that he left the show for the day. 
In addition to those charges, 48-year-old actor named Anthony Rapp has accused Spacey of trying to rape him when he was just a 14-year-old boy, according to Vulture. In fact, it was Rapp's courage to tell his story that helped the eight crew members gather up the intestinal fortitude to expose Spacey. 
Spacey, a two-time Academy Award winner, has checked himself into a place for "evaluation and treatment," his rep told Variety. He has also officially announced that he is a homosexual – which has drawn condemnation from such groups as GLAAD because they feel he is trying to use the fact that he's coming out as a distraction from accusations of his predatory behavior on the set of "House of Cards."
For his part, Spacey did post this letter on his Instagram account,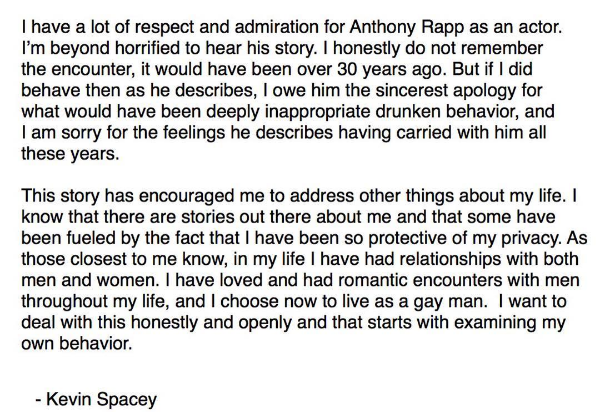 In the wake of the allegations, Netflix has suspended "House of Cards" and announced that the upcoming sixth season would be its last.