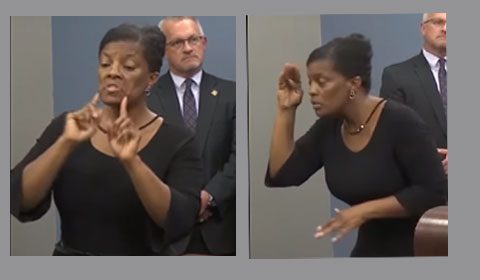 The city of Tampa, Florida is breathing a sigh of relief after a suspected serial killer was caught. However, some are getting a laugh out of the press conference, which featured a sign language interpreter who apparently was signing gibberish.
When Tampa Police Chief Brian Dugan was announcing the arrest of Howell Donaldson to the press, sign language interpreter Derlyn Roberts, 53, was next to him signing with great fervor. But what she was signing made no sense. According to Tampa Bay Times, Roberts signed the following: "Fifty-one hours ago, zero 12 22 (indecipherable) murder three minutes in 14 weeks ago in old (indecipherable) murder four five 55,000 plea 10 arrest murder bush (indecipherable) three age 24."
Rachell Settambrino, who teaches American Sign Language at the University of South Florida, told the Tampa Bay Times, "She sat up there and waved her arms like she was singing Jingle Bells … I was disappointed, confused, upset and really want to know why the city of Tampa's chief of police, who is responsible for my safety … did not check her out."
Even stranger is that according to Tampa Police Department spokeswoman Janelle McGregor, no one in the department requested a sign language interpreter for the press conference. What is known about Roberts, who also goes by the name Derlyn Glover, is that she is an ex-con who served a 5-year sentence for felony fraud. In addition, she has a record of grand theft and burglary and was released from prison in April 2016.
The video of the press conference can be seen below: