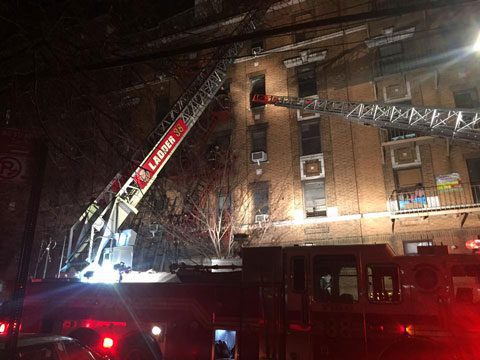 A tragedy has unfolded before the new year as a massive apartment fire in the Bronx has claimed the lives of 12 people. Fire department officials say the blaze started on the first floor of a 5-story building located on Prospect Avenue in the Belmont neighborhood near the Bronx Zoo. Among the dead are 4 children, including a 1-year-old girl who died cradled in her mother's arms in a bathtub. New York Mayor Bill de Blasio stated to the media that another 15 people were injured during the fire and 4 of the victims are in critical condition.
The loss of life in the fire is being called the worst since the infamous Sunnyland Disco fire in March 1990 that killed 87 people.
"We're here at the scene of an unspeakable tragedy in the middle of the holiday season, a time when families are ­together," said Mayor De Blasio. "Tonight, here in the Bronx, there are families that have been torn apart. This is the worst fire tragedy we have seen in this city in at least a quarter-century."
At least 170 firefighters struggled in 15-degree weather as water froze upon hitting the sidewalk. Fire Commissioner Daniel A. Nigro stated to media that the first alarm went off at 6:51 PM and the fire department responded within 3 minutes to the blaze. Nigo stated that the dead were found on different floors of the 25-unit building.
Witnesses stated they could hear victims screaming for help and children crying as thick smoke and flames came out of windows. One man was screaming his babies were dead as he tried unsuccessfully to enter the building. The cause of the fire is not known at this time and is still under investigation.