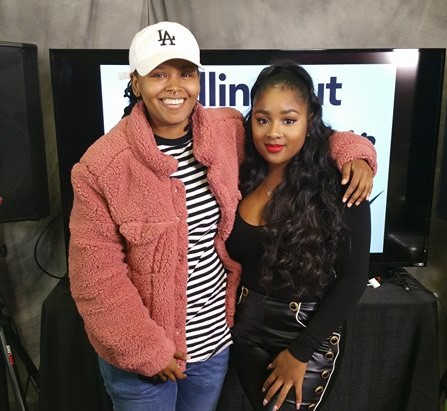 We've all heard jokes from straight men alleging that all a lesbian needs in her life is the "right" man and she would switch up and become "straight." It's an ignorant statement and "Growing Up Hip Hop's" Ayanna Fite wants these men to stop assuming their "package" could change her sexual orientation to straight. The pint-sized beauty stopped by rolling out's reality check with her boo Amy to discuss the second season of GUHHATL and to dish about her upcoming clothing line.
"Guys are always in my DM telling me about their muscles, their height and all their masculine characteristics and they have no idea that those things turn me off because I like women not men. Those are characteristics that straight women like in men but they actually turn me off because I'm not straight," Fite explained.
She said the attitude Black men have towards gay/lesbian women is often ignorant and constantly works to objectify the women without acknowledging their orientation.
"Men suggest threesomes with my girlfriend and it's irritating. There are so many misconceptions about gay women still today," Fite said.
Fite came out to her parents after she had graduated and was living on her own. Although she waited until she was older, she acknowledges it was difficult growing up knowing she was different than her peers. She admits to going out with guys when she was younger in an effort to fit in. Although it allowed her to fly under the radar for awhile, she was never comfortable. Thankfully, Fite's parents were supportive of her and she didn't experience the rejection that some young people encounter when they come out to their families. The daughter of DJ Hurricane, Fite says her father wasn't at all upset when he received her "coming out" text message.
"I text both of my parents that I was gay after I was living on my own," she revealed. Fite said her mother probably had suspicions because she'd asked her if she was gay before she came out.
"I hear men say if I had sex with a man I would turn straight and that's not true," Fite said. She recalled being intimate with a young man in her past and it being a horrible experience for her. "The guy didn't do anything wrong, per se. There was nothing wrong with him and there's nothing wrong with me. I just don't like being with a man. I was born gay," she explained.
Fite insists there are numerous intimacy misconceptions regarding gay couples, specifically lesbians, that many people just don't understand.
"When women come out as gay, people are quick to dismiss it as a phase or like I said something that could be fixed with the 'right' man," she said.
Viewers of GUHHATL have seen Fite and Amy, her girlfriend of three years, go through the growing pains of being a young couple on television. Amy re-located to Atlanta partly to be with Fite and the two of them have weathered the storm of dealing with their relationship being dissected for reality TV. Fite hopes other young gay couples are encouraged seeing their relationship get stronger over time.