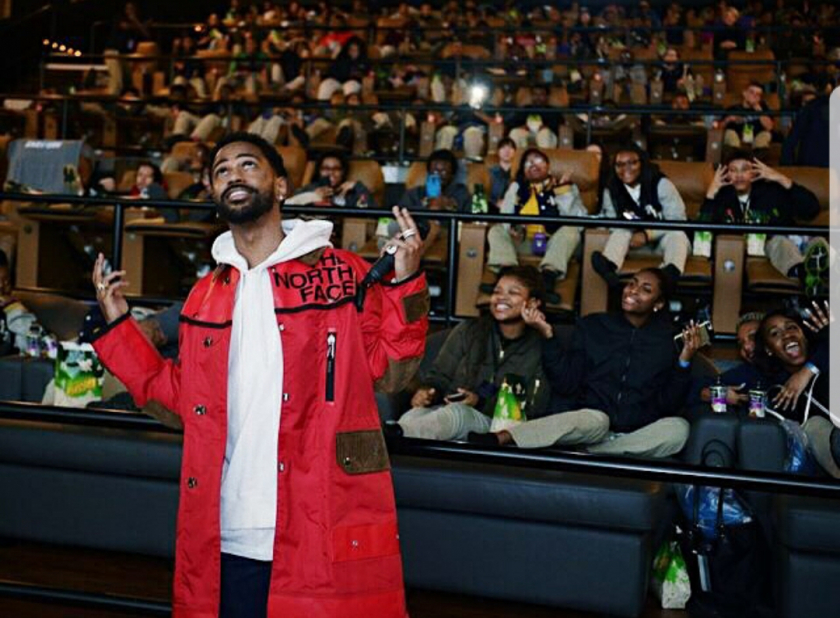 Big Sean, Emagine theaters and Jemele Hill collaborated in a major way with Eminem, the Detroit Free Press, the Detroit Lions and the Ford Fund to surprise 900 Detroit Public Schools (DPS) with a free screening of Black Panther. The treat that began with a tweet by Hill announcing her plans to reward DPS students with perfect attendance and grades with tickets to see the record-breaking blockbuster, quickly gained the support of Detroit native hip-hop artists Sean Anderson (Big Sean) and Marshall Mathers (Eminem) on social media. A proud graduate of Mumford High School (a Detroit Public School), ESPN "Undefeated" writer Jemele Hill knows all too well the importance of excellence and leaving a positive legacy. The former "Sportscenter" co-anchor attended the Los Angeles premiere of Black Panther and was so moved by the storytelling, artistry, and performances that she knew the ideal of a mythical place like Wakanda could serve as an inspiration to DPS kids.
"As someone who was a product of the Detroit Public School System, I have a keen understanding of the perception of the school system and the students that come from it. The message needs to be constantly reinforced to them that there is a strong legacy of productive, high achievers from this school district," Hill revealed to rolling out. "And I specifically wanted the kids at my alma mater to know I'm not just a graduate of Mumford [High School], but a proud one. Black kids, in general, need to see themselves in a movie like this so that they can allow their imagination to run free with possibilities."
Big Sean, a heavy influencer in making Wednesday's event happen, surprised the excited crowd with a pop-up appearance and a message of encouragement.
"Thanks for coming out DPS, I'm a product of DPS, I'm a product of Detroit, I'm a product of the whole city," Anderson told students. "It's just important to see that we are the best in the world, at DPS, we can do anything. … We can do things they said we never could do, and I truly am here for y'all."
It is this shared sense of pride and duty to be a shining example for Detroit youth that has Anderson at the forefront of a major project set to premiere in Detroit in 2020 — a movie theater directly located in the city. The "So Good" rapper announced his upcoming partnership with local movie theater franchise, Emagine Entertainment, to build a luxury movie theater complete with a live venue for intimate concerts, exclusive screenings, and seminars in or near downtown Detroit. After closing outdated movie theater, the Ren Center 4, previously located inside the iconic Renaissance Center, there hasn't been a similar venue in the area since 2015. The Sean Anderson Foundation founder's passion for giving back to the city that raised him has resonated in everything he does from enlisting a state of the art recording studio inside his alma mater, Cass Technical High school, to donating proceeds from a show to combat the Flint Water Crisis.  The Sean Anderson Theater is just another affirmation of the Grammy-nominated artist's desire to invest in Detroit and empower its youth.
"I do carry the responsibility of the city, you know. No matter what. They made me who I am," Anderson once told CNN.
And so one journalist's mission to transform the hashtags #blackpantherfieldtrip and #detroitseesblackpanther into an opportunity for Detroit kids to see themselves as amazing became an opportunity to inspire the future of a school system capable of greatness.