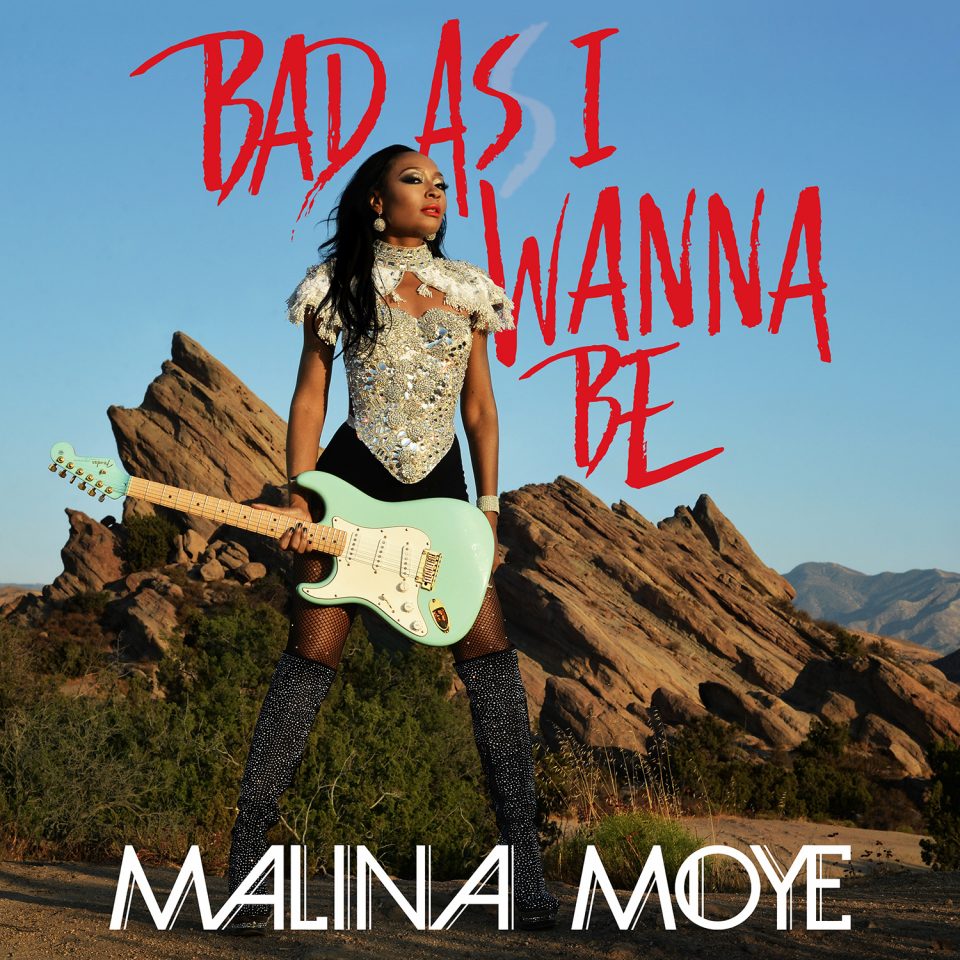 Bold energy radiates from singer-songwriter-actress Malina Moye as she shows us how well Black women rock. The left-handed guitarist is dispelling misconceptions by commanding spaces meant for traditional rock artists. She has sometimes been the only female on the lineup — and the only Black person in the venue. Yet, she does not allow the monolithic mainstream to dampen her euphoric aura.
Her latest album, Bad As I Wanna Be, released on her label, WCE records, spent two weeks at No. 1 on the Billboard Blues chart. It is a genre-transcending blend of funk, rock and soul. The bluesy single, "Enough," is featured in the upcoming motion picture, The Samuel Project, which is due in theaters this fall. She will make her acting debut in a supporting role.
Moye's moxie is a reflection of rock pioneers like Rosetta Tharpe. She has performed for the Queen of England, made history as the first African American female guitarist to play the national anthem at a major sporting event, and performed in the Rock & Roll Hall of Fame tribute concert honoring Chuck Berry. Her success is shaping her desire to build a legacy.
"When I did the national anthem, I never thought, 'Oh, I'm going to make history.' I was like, 'Wow, I'm super excited to perform,' " she shared. "I just wanna come out here and do a good job. You start to realize that you're opening doors for other people. It's not about being the first. For me, it's about opening the doors for the legacy of others who are coming in.
"You wanna make sure the door is open so that everyone can come in who wants to share their brand of who they are. I always look at it as it's bigger than Malina. I'm trying to educate people so that when the next person comes through, they say, 'Okay … I get it.' "
Hailing from Minneapolis, the birthplace of Prince, Moye's affinity for innovative artistry is innate. During an early childhood encounter with the icon, she was bold enough to ask for a lead part in his next movie. That led her to visit Paisley Park for a life-changing experience with the musical genius.
Rolling out spoke with the dynamic recording artist about her chart-topping album, working with Janelle Monaé, being a Black woman in the rock genre and more.
Your album is out at a pivotal time for women. Tell us about your inspiration and motivation for Bad As I Wanna Be. 
In rock, it's one thing for women in general, but as Black women, we gotta work twice as hard just to get any type of recognition. There are so many opportunities that some other people may have. We're not even thought of for that opportunity.  [This person] made me feel like I didn't matter and I didn't count, … so I started writing.
I couldn't have put this together in a better synergetic moment than what is happening right now because all this took place, and I just kept writing and writing. That's how I came up with the song "Enough." All the different issues that are taking place, I just started to feel it. I started to think it doesn't matter what anybody says, I like myself. I'm celebrating myself. Know that you matter and you count. Be your own superhero. Don't look to somebody to tell you what you should be.
Bad As I Wanna Be took on a life of its own. With this album, I was feeling a celebration of self. If you feel underappreciated, overlooked and like you don't matter, celebrate yourself and be your own superhero. That's what "bad as I wanna be" means to me.
Who did you work with on the album as far as producers?
I worked with Bjorn Soderberg, who has done some stuff with Ne-Yo and Kendrick Lamar. He produces a lot of alt-rock and R&B tracks. Sometimes when you try to go to radio —which is the next phase we're trying to go into — people get really crazy about guitars. I wanted to make sure we had a real pop-rock-funk record.
You're featured on Janell Monae's "PYNK." Share what it was like working with her.
It was so interesting because when that actually happened, I was telling my fiancé (who's a film director), 'We should do a movie. I wanna play Rosetta [Tharpe], and we should get Janelle Monaé to play her girlfriend.' The Hidden Figures film had just come out, and I tweeted about it. I thought that it was so interesting 'cause I kept putting it out there. I never knew she read some of my stuff. Just to go out to Atlanta and have a chance to meet everybody at Wonderland and vibe and jam — it was great. She is an incredible artist. I think she really stands up for not just Black women but all women, all people [and] anybody that represents the same thing that I feel: different, unique and no matter what, being unapologetically you.
Who's on your bucket list of collaborations?
I love Eminem. I love artists who are authentic. I think Jack White is amazing and [so is] Pharrell. I love Cardi B, and I love Bruno Mars. I'd love to work with Robert Plant. Acting-wise, Daniel Day-Lewis, Gary Oldham [and] Viola Davis.
Malina Moye is finishing the North American leg of her Bad As I Wanna Be tour and will head to Europe this fall. Her album is available on all digital outlets. Stream it below.
Tour dates
July 13: Sellerville Theater, Philadelphia
July 14: Soundry, Washington, D.C.
July 15: The Iriduim, New York, N.Y.
Aug 22:
 Triple Door, Seattle