Rotimi thrives on 'Power' and in real life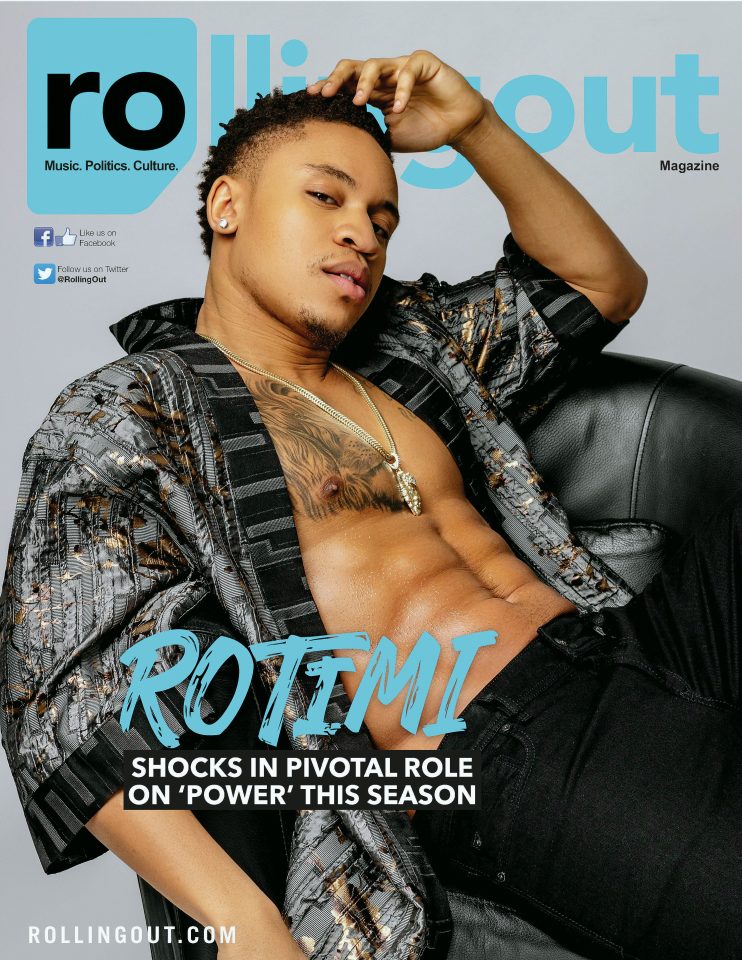 It takes many actors decades to get to where Rotimi Akinosho is right now. He's so hot that he just goes by one name. As Dre on "Power" for the past two seasons, he's gotten his weight all the way up. And this season, he's more than turned the tables. That's not bad for someone who has only been in the game since 2011. Instafamous, he even has a million followers on Instagram. In one post on @rotimimusic, he writes "I believe in work, i [sic] don't rock with luck." But he just might rock with destiny.
The son of Nigerian immigrants who raised him in Jersey, Rotimi has never really known what it's like to lose. Even in the womb, his mother was told that Rotimi had big shoes to fill.
"My mom always knew that I was going to be a musician or an entertainer because she always would say that Bob Marley had come to her in a dream when she was pregnant with me and said, 'Your son is going to fulfill my legacy,' " the 29-year-old shares in a recent phone interview.
Music launched his first journey. As early as age 5, he was a wedding singer. Even as he attended Northwestern University in Evanston, Illinois, just outside Chicago, he recorded and toured. People have always rocked with Rotimi, with most things coming easily to him, even during uncharacteristically tough times. That's what happened with acting. Needing money, he auditioned for "Boss," the Starz show starring Kelsey Grammar of "Frasier" and "Cheers" fame as Chicago's crooked Mayor Thomas Kane. "Boss," which ran for two seasons in 2011 and 2012, arguably paved the way for "Power," Starz's cash cow. For Rotimi, that first-ever audition was simply a money grab. He didn't expect to gain a career from it.
"I just saw that it was an opportunity to get some quick money. It wasn't like a plan to be an actor. It wasn't like my dream or anything," he insists. "I had just graduated. I wanted to just put something in my pocket."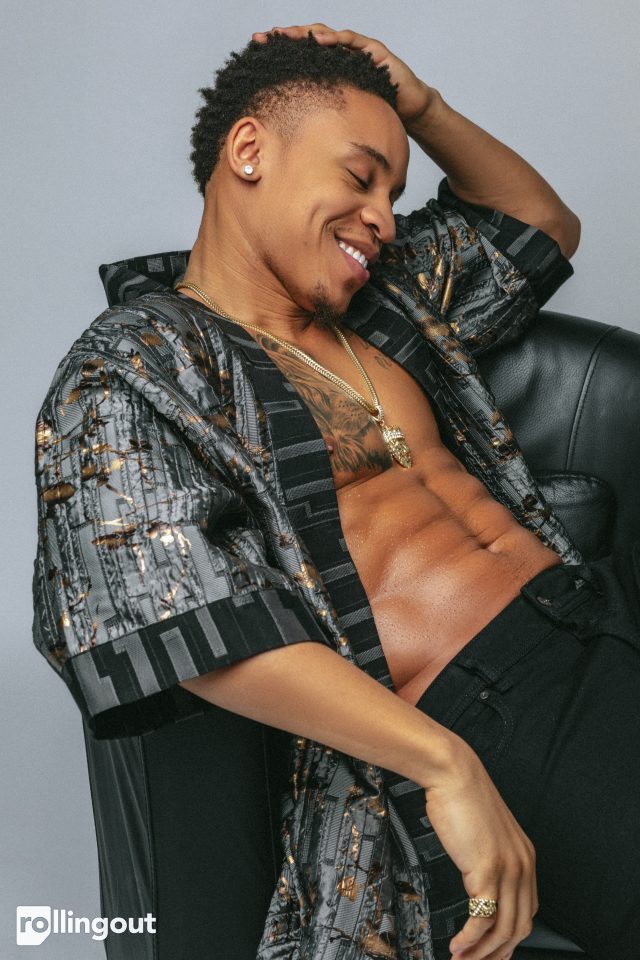 And Starz has now been putting money in his pocket for at least five of the seven years he's been acting professionally. After playing drug dealer Darius Morrison, who became involved with Mayor Kane's drug-addicted daughter Emma until "Boss" ended in 2012, Rotimi graduated to "Power," then in its second season, in 2015. That Dre was nothing like the one on "Power" this season. At first, he was just James "Ghost" St. Patrick's (Omari Hardwick) mini-Ghost, if you will, being shown the right way to get out of the drug grind and go legit. This season, he's deeper than ever in it with his one-time teacher gunning for him.
Last season, the murder of Ghost's daughter, Raina, sent shockwaves throughout the entire St. Patrick family — and the "Power" audience. Since season five returned July 1, the major storyline has focused on the various ways her whole family is grappling with her death. And one way Ghost thinks he will feel better is to kill Dre for putting the actions in motion that he believes led to Raina's death. But so far, murdering Dre hasn't exactly worked out. And that's as shocking to the audience as it is to Ghost.  If there's one thing most "Power" fans thought wouldn't be a factor this season, it's Dre.
Much like Kanan, rapper 50 Cent's character, who brought best friends Tommy (Joseph Sikora) and Ghost into the drug game and later sought revenge for their betrayal which made him a target, Dre is also proving to have multiple lifelines. Now that Dre has escaped the clutches of sure death thanks or no thanks to Tariq, Ghost's gangster wannabe son, and has the Jimenez muscle behind him, he has switched the tables on Ghost. He long took over Truth, the club Ghost saw as his ticket to go legit. And despite Ghost and Tommy reteaming with Kanan to get Dre, he's still breathing. And Rotimi, for one, isn't the least bit mad or surprised.
"He just seems to survive," Rotimi says of Dre. "People forget he's like a baby Ghost so he's very resilient and very smart and calculated. You know the whole show is about survival, and whoever's the fittest will survive."
Right now, the fittest is definitely Dre. "Power" fans may love Ghost but, despite his last name, he is far from anyone's saint, Rotimi notes. "I think that people forget that Ghost is more conniving and more evil than anybody, and that's the funny part about it," Rotimi says. "He's killed the most people on the show. He's the one that betrayed his best friend. He's the one that's cheating on his wife. He's the one that's neglecting his kids. Everyone seems to forget that."
Taking Dre from student to master hasn't come without work. Just like Dre has paid close attention to Ghost's every move, Rotimi has done the same with Hardwick. "Just studying Omari," he explains, "studying how he handles the character [of Ghost] and just being really in tune with what ['Power' creator] Courtney [Kemp] wanted me to bring to the table. She allowed me to play a lot and allowed me to show my acting chops. She allowed me to boss up, and I had to keep up with that."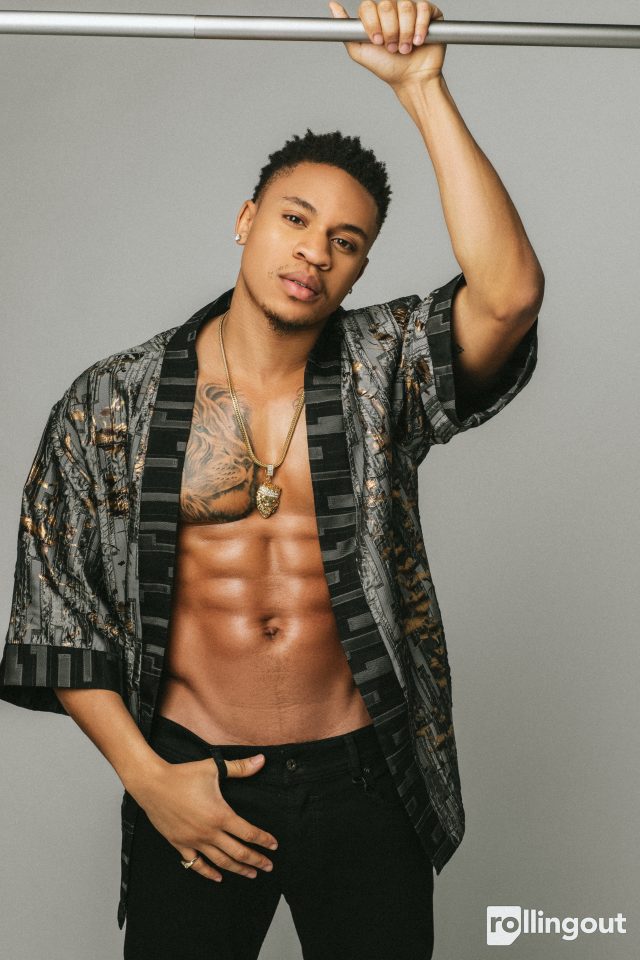 In his real life, Rotimi also exercises his musical chops. Working with Clifford "T.I./Tip" Harris, who joined "Boss's" second season as Darius' cousin Trey Rogers — a gang leader with political ambition — and 50 Cent — who helped bring "Power" to Starz — has inspired him to go harder.
"They're the modern-day Renaissance men, and they do it all and they've been able to capitalize financially on all of their talents and been very smart about it," he says of T.I. and 50 Cent. "So they taught me a lot about how to be a businessman and how to just think outside the box and capitalize on everything."
Currently, he has his own project, Jeep Music, which he describes as "a true story of what I went through in a relationship, how its ups and down, messing around, cheating, on both parts, doing the right thing on both parts. It's a real story that happened in my life."
As for his current love life, he says, "I'm chilling right now."
There's no chill on his acting career, however. Outside of "Power," he's also taken on acting gigs in the long-running series, "Law & Order: SVU," and in such films as Burning Sands and Acts of Violence with Trevor Jackson and Bruce Willis, respectively. He's also producing some projects in which he also stars. Recently, he filmed the romantic movie Singleholic, starring himself, Erica Ash and Stephen Bishop in the African island nation of Mauritius. He's also excited about the series "A Luv Tale," which he describes as "a dope story of these four lesbians [that's] kind of a mix between 'Sex and the City' and 'Girlfriends.' "
Thought-provoking art is a real goal for him. "When you got things that make people feel and stop and have conversations, that means your art is being appreciated," he shares. And there's no denying that he has people talking this season of "Power."
As season five continues, it certainly appears that Dre has even more thrills on deck for "Power" fans. "I think it's the old regime versus the new regime. You know Dre vs. Ghost," he says.
But who will win? Just because "Power" has already been renewed for a sixth season doesn't mean everybody will make it. In fact, during an appearance on "The Breakfast Club," Joseph Sikora, who plays Ghost's best friend Tommy, and Naturi Naughton, who plays Ghost's wife Tasha, were quite clear that everybody wouldn't live and that neither Tasha nor Tommy were automatically safe.
Based on what's transpired thus far, though, it won't be surprising if Dre is still around for a sixth season. After all, Rotimi appears very confident that Dre ain't going nowhere. " 'Power' is becoming my show, which is a blessing," he says. "And for ['Power' creator] Courtney [Kemp] to believe in me to go head-to-head with Omari [Ghost] and Joe Sikora [Tommy], it's becoming a beautiful thing."
So the last thing any "Power" fan can do is forget about Dre because counting Rotimi out will always be unwise.

Story by Ronda Racha Penrice
Images by DeWayne Rogers