Barack Obama is getting a long street named after him in the nation's second-largest city.
The 44th president of the United States has been informed that the Los Angeles City Council voted to change the name of Rodeo Road to Obama Boulevard. 
After the vote was certified and confirmed, Los Angeles Mayor Eric Garcetti made the announcement publicly on his Twitter account: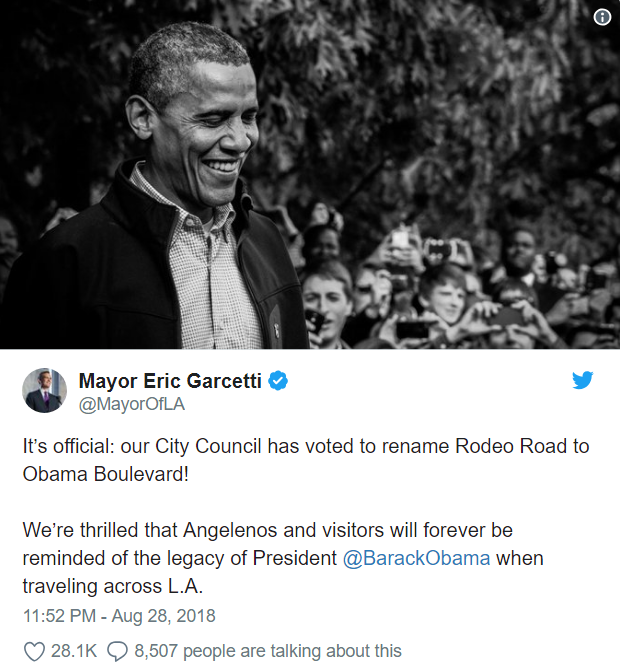 The city council president chimed in with his congratulations along with a historical tidbit to commemorate the occasion: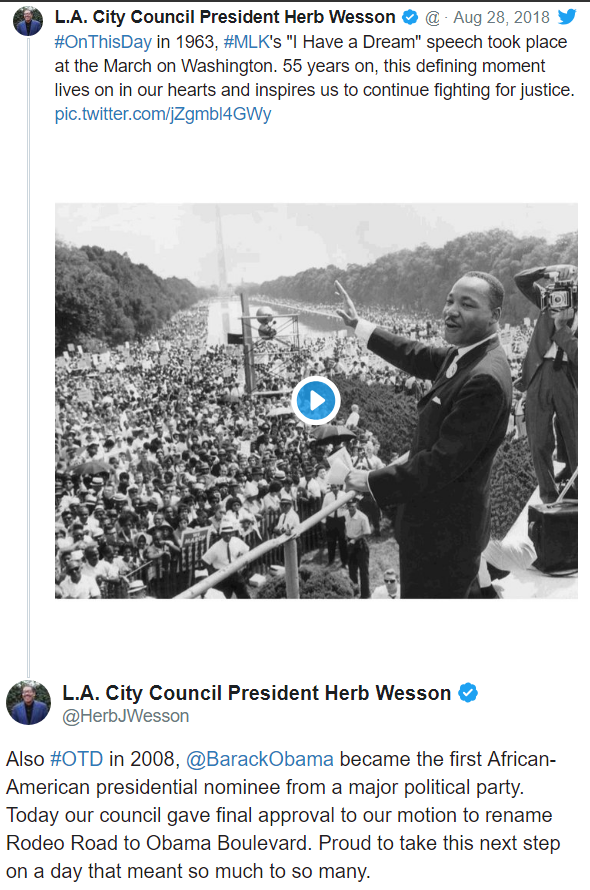 This should not be confused with the world-famous Rodeo Drive (pronounced RO-DA-YO) in neighboring Beverly Hills. Rodeo Road (pronounced RO-DEE-O) in Los Angeles is a 3.5-mile street that runs from near the Culver City border east to Mid-City. Rodeo Road cuts through a residential area of the vast city that is sprinkled with multiple schools and recreation centers and is adjacent to the Crenshaw neighborhood.
There is a reason Garcetti was elated at sharing the news. Back in 2008 during Obama's first run as the Democratic nominee, Garcetti served as a California co-chair. After his successful occupation of the White House, Obama returned the favor and announced his endorsement of Garcetti during his 2017 re-election campaign, calling Garcetti a "friend, loyal ally and a great and visionary mayor of Los Angeles."
Obama has been the beneficiary of the "California Love" Dr. Dre rapped about. Several California schools have also been named after Obama, and in the Monterey Bay town of Seaside, city leaders designated a street Obama Way.
The date the council chose to render their decision is not coincidental as it bears historical significance: Aug. 28 is also the day Dr. Martin Luther King delivered his "I Have a Dream" speech on the steps of the Lincoln Memorial in 1963. Soon thereafter, the Kennedy brothers began work on the Civil Rights Bill that was completed after President Kennedy's assassination with the aid of President Lyndon Johnson.