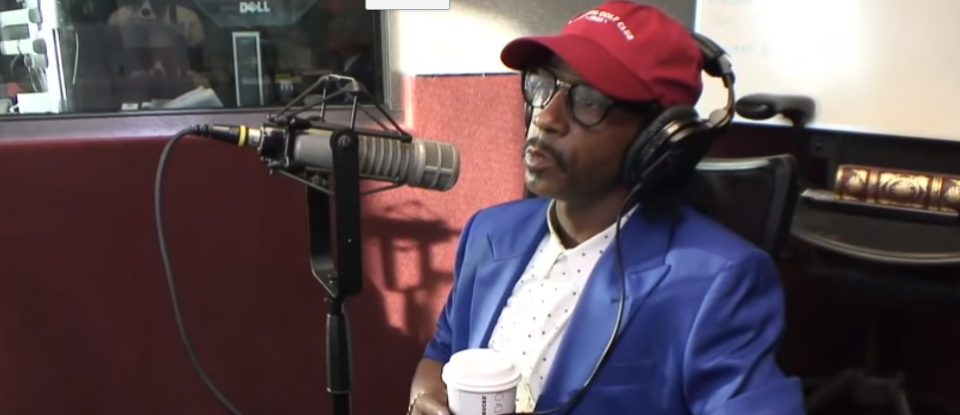 Katt Williams is feeling a multi-pronged backlash for ruthlessly roasting a group of famous fellow comedians during a radio interview this past Friday, including Tiffany Haddish, Kevin Hart and especially V-103 radio show co-host Wanda Smith.
Smith, who heads up the "Frank & Wanda Morning Show" with Frank Ski every weekdays from 6 a.m. to 10 a.m., said she was crushed by Williams' mean-spirited comedic pounding of her — so much so that her husband reportedly pulled a gun on Williams when they both appeared at a suburban Atlanta comedy club the next evening.
According to The Atlanta Journal-Constitution, Williams told Gwinnett police that Smith's husband, LeMorris Sellers, pointed a gun at him and threatened him. The newspaper said Sellers admitted that he did step to Williams and chase after him into the adjacent supermarket parking lot, but he did not point a gun at him. Sellers reportedly said the gun merely "fell out."
On Monday, Smith recounted her brutal on-air dissection by Williams that went viral on Friday. She said on the "Frank & Wanda Morning Show" she had begged co-host Ski to invite Williams on the air when she found out he was chilling and talking to fellow comedian Red Grant in the station's green room. Grant was already booked to be on the show.
Smith said Williams reluctantly agreed to be on the show after initially declining.
Smith teared up as she recalled how Williams "went left" on her on live radio almost from the outset. She said she believes Williams went on the air "to attack me."
"Every time I asked him something, he kind of came for me," she said.
"I was looking in his eyes and it was like an attack. When he started coming at me, it kind of threw me off. I didn't want to talk to him. My mind wasn't on being disrespectful. I didn't want to go back and forth. That made me feel so bad. I didn't want to talk to him like that. It was a respect thing."
Smith asked why Ski, her co-host, did not cut off the exchange by going to a commercial, but Ski simply said the two of them kept going.
"I did expect you — as the man of the house — to stop the kids from playing. And that never happened," Smith told Ski as she recounted Friday's episode.
Ski countered by telling Smith: "I looked at it as two comedians playing the dozens — and you lost. I didn't feel in the moment that you were hurt."
"You've got just as much power as I do to go to commercial," Ski added. "It's unfair to say I should have stopped it just because you lost."
Smith said that, following the show, she dusted herself off from the brutal verbal beatdown to speak at the Nicholas House in Atlanta, a woman's homeless shelter.  She noted bitterly how much she gives back to the community but that it never makes the news.
"None of that stuff ever went viral," she said as her voice cracked repeatedly.
"It was hurtful that this was my first time meeting Katt Williams. It's crazy how something that was supposed to be so great ended so bad," she said.
Some of the radio show listeners blamed Smith for the encounter, saying she started the banter with Williams and then got her feelings hurt when Williams got the best of her.
"If that's how people feel, I can't be upset. I am not feeling the hate," said Wanda.
This set the stage for Smith's husband allegedly pulling a gun on Williams at the Atlanta Comedy Theater the next day.
Smith said she saw Williams pull up to the club with his bodyguard. Williams allegedly approached Smith, and she quoted him arrogantly boasting: " 'I told you f—ing with me would make you go viral.' "
Upon hearing the exchange, Sellers, Smith's husband, reportedly torpedoed towards Williams to confront him for speaking crazily to his wife, the AJC reports.
Witnesses said Sellers pulled a gun on Williams and threatened him. However, by the time the Gwinnett County, Georgia, police arrived, the situation was diffused.
Williams is said to have declined to press charges against Smith's husband.
Stay tuned for further details.