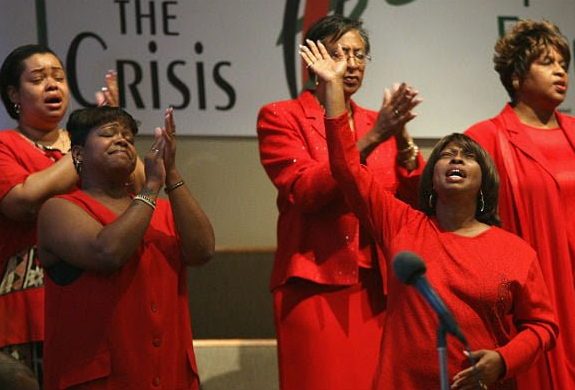 Nearly one-half of the American population will be obese by 2030, according to a 2012 study published in the American Journal of Preventive Medicine. The researchers estimate that this will result in an additional $66 billion in health care expenditures, 7.8 million new cases of diabetes, 6.8 million new cases of stroke and heart disease, and 539,000 new cancer diagnoses.
America was founded on Judeo-Christian principles and therefore has a moral obligation to deal with the biggest epidemic facing this country in the 21st century. Looking at the waistlines of Christians today, they are filled with much more than just the Holy Spirit. 1 Pet. 2:9 (KJV) states, "But ye are a chosen generation, a royal priesthood, an holy nation, a peculiar people…." Then why does the church look exactly like the world? It seems the local church has nurtured one's souls but neglected one's body.
Contemporary church culture has unwittingly contributed to the rise in overweight and obese parishioners. Today, it is rare to hear a sermon preached on the stewardship of the physical body and even more rare on the vice of gluttony; it has become a secret and acceptable vice in the modern church.
One of the reasons for this was stated to me by Apostle Aaron Royster. "You can't preach about what you are guilty of," he said.
Pastors who are overweight and out of shape has become a norm. We see that rooted in catchphrases such as "anointed belly," referring to a pastor having a big stomach because he's preaching the gospel.
This letter is a wake-up call to the church to confront this issue before it becomes too late. Why the church you ask? Because the church happens to be where this problem is the worst.
A 2006 Purdue study found that the fundamental Christians are by far the heaviest of all religious groups, led by the Baptists with a 30 percent obesity rate compared with Jews at 1 percent, and Buddhists and Hindus at 0.7 percent. A 2011 Northwestern University study tracking 3,433 men and women for 18 years found that young adults who attend church or a bible study once a week are 50 percent more likely to be obese. The Pawtucket Heart Health Program found that people who attended church were more likely than non-church members to be 20 percent overweight and have higher cholesterol and blood pressure numbers. Finally, a 2001 Pulpit and Pew study of 2,500 clergy found that 76 percent were overweight or obese compared to 61 percent of the general population at the time of the study.
The financial crisis that took place in Greece is making its way to the American shores because the money isn't here to take care of our sick and dying. The church has to now deal with its chickens coming home to roost and the fact that they are fried chickens!
Please share this information among your friends because this is the beginning of a war. Ephesians 6:12 states, "For we are not fighting against flesh-and-blood enemies, but against evil rulers and authorities of the unseen world, against mighty powers in this dark world, and against evil spirits in the heavenly places."
This is my first of many letters, but we have four real reasons that the church is the most unhealthy institution in the U.S.:
Recognition. Everyone is so overweight and out of shape that on Sunday a problem isn't even seen as a problem. My cousin Malachi Isreal said, "Everything in the physical exists also in the spiritual, so obesity has to be addressed from a spiritual standpoint as well." How do you change something that you don't see as a real problem? The answer is, you can't. 3 John 1:2 states: "Beloved, I wish above all things that thou mayest prosper and be in health, even as thy soul prospereth." It must be said that there is a serious problem that exists in the body of Christ, and I'm either part of the problem or the solution.
Separation.  Revelation 18:4 reads, "Then I heard another voice from heaven say: 'Come out of her, my people,'…." The question that has to be raised is this: Do your dietary choices differ from anyone else's you know? From a historical standpoint, food that one would eat or pass upon was a clear indication of their faith. In today's society, there are no differences at all between what a "worldly" person and a "saved" person eats. Examine your dietary behavior. There is a diet that is biblically acceptable and one that isn't Which feeds you?
Temptation. Why are desserts and fried chicken dinners still being sold at the end of church services? If prayer is going forth at the beginning of service for people who are sick from diabetes, hypertension, strokes, cancer, etcetera, then how is a service ended with the selling of fried food, candy and cakes? It just doesn't seem backward, it is backward. If a church service for strippers is held to ask them to change their lifestyle, one can't end the service with bringing out poles and throwing money. Thus when these foods are being offered, believers must be bold and say, "No I don't want any," without giving an explanation. As it says in James 4:7, "Resist the devil and he will flee from you."
Subjection.  While teaching an exercise class at Salem Baptist Church, I noticed people in wheelchairs working out, I noticed people with walkers working out, I noticed people on crutches working out. These individuals refused to allow their situations to stop them from exercising. Well, how silly does a healthy, able-bodied, able-minded person look saying they are just too tired or working out is just too hard? That is an insult to the person who would give anything to have your physical situation. Prov. 23:21  reads: "For the drunkard and the glutton shall come to poverty: and drowsiness shall clothe a man with rags." Though the church is quick to identify a drunk (and quick to condemn him), the glutton goes largely unnoticed. Society has changed and become very sedentary. One must subject themselves to consistent exercise to combat bad habits.
—Siddiqu, "The Personal Trainer" is a CPT, a motivational speaker, and the author of How Are You Fat and Saved?! He is also the co-creator of the largest boot camp in Chicago, The No Excuse Bootcamp, and the "You Would Think I Invented Sweat" exercise series. For booking information or more of his fitness tips, visit www.chicagofit4life.com.