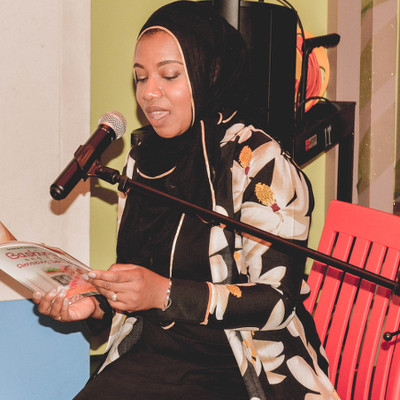 Ameenah Muhammad-Diggins is an American author, speaker and business consultant who was voted to the Nur 25 list of Muslims who are breaking barriers by the Huffington Post. Although her professional experiences are heavily concentrated in the areas of branding, self-publishing, and marketing, Muhammad-Diggins is also helping families increase their active and passive income through business coaching. 
As an author, Muhammad-Diggins has written two award-winning books titled Bashirah and the Amazing Bean Pie and There Is Greatness in Me. Both books are focused on sharing the experience of Black Muslim children and motivating them to believe in themselves. 
Rolling out had the opportunity to speak with Muhammad-Diggins about her faith, instilling an entrepreneurial mindset in her children and advice for young women of color. 
What inspires you as an African American woman of the Muslim faith? 
There are many things that inspire me as an African American Muslim. What immediately comes to mind is the legacy I want to leave behind. I want to leave a positive lasting impression on the world. As a Muslim we believe that the good and bad deeds we do in this world will have a lasting effect on us in the hereafter. We also believe that the person who is most favored in the sight of God are those who have the greatest benefit to humankind. I am always conscious that I keep those principles foremost in my mind. 
When did you decide self-publishing was the road to take in order to share your stories? 
I have always been a self-starter. Self-publishing seemed to be the ideal option for me when the time came to share my work with the world. I also had specific goals for each book. For instance, I wanted Bashirah and the Amazing Bean Pie to spark conversations about African American Muslim culture and experiences. I needed each African American Muslim child who reads the book to feel warm inside with the feeling of validation that comes from seeing yourself in media. In addition, I wanted to showcase the diversity of cultures within Islam and the diversity of religions amongst us Black folk. Often our stories as African American Muslims are left out of both conversations the larger Muslim conversation and the voice of Black Americans that is often church centered. I didn't feel that a publisher would get my vision and honestly I did not want to wait around to see if they would.
Your children are young entrepreneurs. How did you instill the mindset in them to reach for greatness at such a young age? 
There is not a playbook or manual that comes with raising children. Honestly, I am still figuring it all out and praying for the best. It was important to my husband and I that our children understand that in order to control your destiny you have to also have control over your ability to generate money. We always talk about being a self-starter and not waiting on others to create "magic" in your life. If there is something that you want, trust God, do the work and it will be yours. 
What three pieces of advice do you have for young women of color and Muslim women of color as they pursue their entrepreneurial endeavors?
1. Understand that the world needs your brilliance and for you to show up as you are. African-American and Muslim. There is no need to try to assimilate into something you are not. Show up and hold your head high with faith in God. 
2. Find a solution to a problem. That is true entrepreneurship. If you can solve a problem for enough people you will be successful. 
3. Find a mentor or coach. The fastest way to success is to follow the blueprint. You gain experience not shared in books. You can avoid common mistakes and have improved planning and productivity.