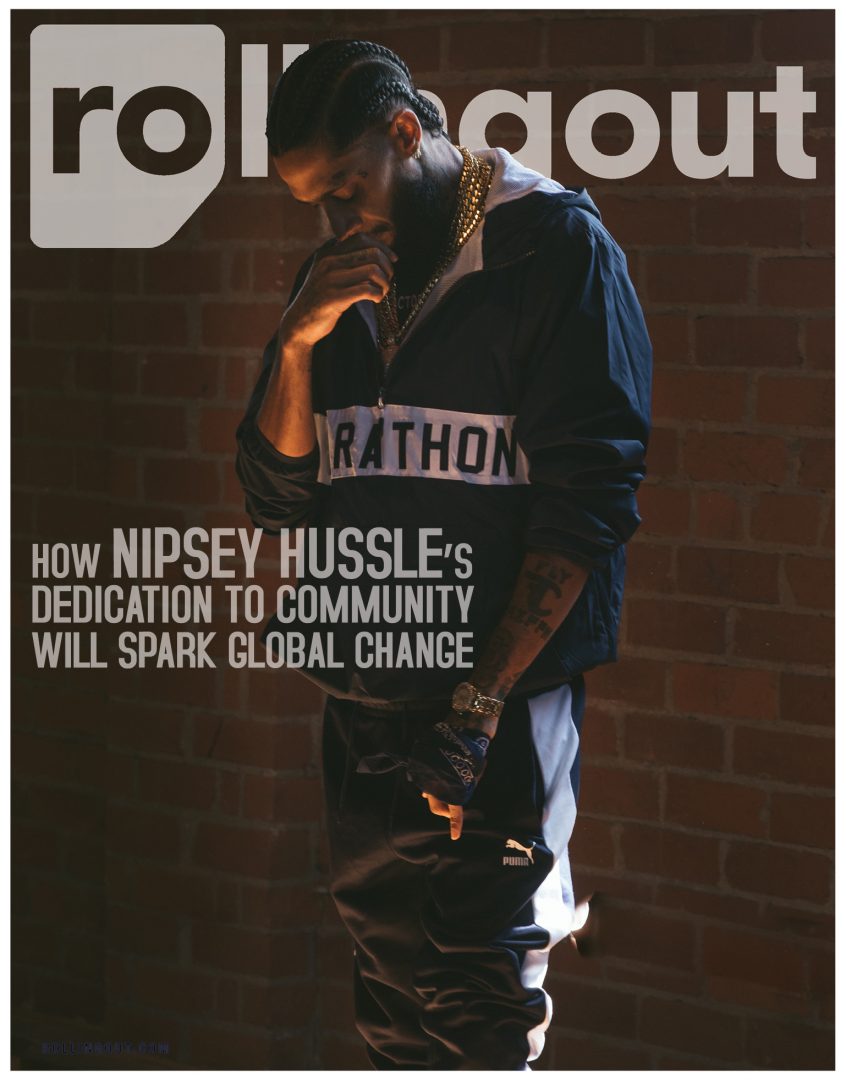 Before his untimely demise and during one of his most candid interviews ever,
Tupac Shakur
openly dismissed the idea of ruling the world or even changing it. While he desperately sought to live in a better place along with his community, his thoughts of redemption and victory, he felt, were purposed for another individual.
"I guarantee that I will spark the brain that will change the world," he promised in prophetic fashion, "and that's our job, is to spark somebody else watching us … I don't know how to change it, but I know if I keep talking about how dirty it is, somebody [is going to] change it."
Before March 31, 2019, the day Nipsey Hussle, born Ermias Davidson Asghedom, was gunned down in a parking lot he had walked hundreds of thousands of times since his youth, it was reasonable to gather that he was on course to being the somebody Tupac so eloquently referred to. Many believe his most recent album, Victory Lap, was the most impactful of 2018 and easily his greatest work. His penchant to build his Slauson and Crenshaw stomping grounds was ever-present and important to a city that longed for change, and he was actively working on a documentary that he said would feature the work of the renowned Honduran holistic doctor, Alfredo Bowman, better known as Dr. Sebi.
The basis of the documentary, Nipsey offered in an interview with "The Breakfast Club," was to uncover the mystery of Dr. Sebi's death and the secrets to his alkaline diet, which was said to heal the body from the inside out. Once charged and brought to trial by the state of New York in 1988 for claims that he could heal AIDS patients with his diet, Dr. Sebi was ordered to produce one patient who could confirm those claims. Upon returning with 77 patients by his side and the medical records to prove they'd been healed, the state of New York dropped the case.
"This the remedy, the separation / 2Pac of my generation / Blue pill in the f—in' Matrix / Red rose in the gray pavement / Young Black n—a trapped and he can't change it / Know he a genius, he just can't claim it" — from "Dedication" on Nipsey Hussle's 2018 Victory Lap album
A mere 11 years old when 2Pac was shot down in cold blood, Nipsey's own legacy had already begun to take shape. At the age of 9, he shined shoes to make enough money to invest in a lawnmower, which would ultimately lend a more fulfilling weekly payout. By the time he was 13, he'd mastered the inner workings of a production studio, traveling daily to the Watts Towers Studio to perfect his engineering interests. At 23 years of age, the devout Rollin 60's Neighborhood Crip gang member was a store owner, who would later sell 1,000 mixtapes at $100 apiece within the confines of his own futuristic boutique — in less than 24 hours.
That store, The Marathon Clothing, became a symbol of commitment and empowerment to a neighborhood known for its violent predilections. With Nipsey's investment, it would become a beacon of hope — a safe place for kids and a workshop for former offenders. Within hours of confirming his death, a video surfaced of an older man praising Nip for giving him a job — a direct result of his insistence to build wealth on every front, for everybody.
Nipsey's desire to own anything and everything he had his hands on or in was never a secret. At the tender age of 21, he gave what many believe to be his first interview with Bay Area hip-hop historian Davey D and Hard Knock TV at Russell Simmons' "Get Your Money Right" financial summit. The words provided an evergreen moment that offered an enchanting glimpse at who and what Nipsey Hussle eventually would become.
"All that is cool for the image … but all [that] is liabilities," he said. "I'd rather invest in some real estate … some assets, as opposed to trick off my money on liabilities, like diamonds, cars that lose value as soon as you drive them off the lot … real assets [to] take care of my people. [Jewelry looks] good, but at the end of the day, you losing value, homie. It ain't appreciating. It's depreciating."
Just as the world was beginning to appreciate him for his impeccable grind, his love of family, community and forward-thinking sensibilities, Nipsey Hussle was taken from us. In the days and weeks that led up to his shooting, he was working with the police force to end gang violence and was scheduled to meet with LAPD at a summit to execute a plan to do as much.
Only hours before his death, he tweeted, "Having strong enemies is a blessing."
As painful as it is to rethink his legacy at a hungry 33 years young, Nipsey Hussle's life turned out to be the blessing. Now it is someone else's turn to embrace his work and continue to change the world.
The marathon continues.