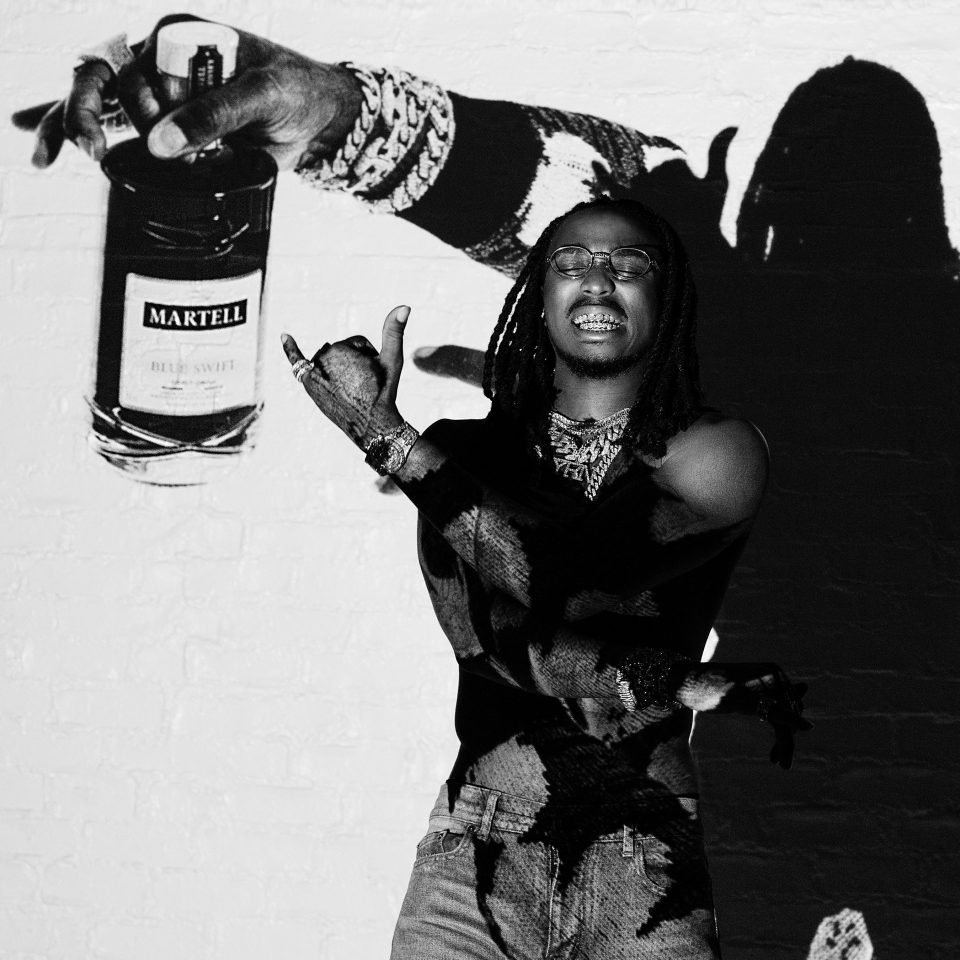 Founded in 1715, Martell Cognac describes itself as "the oldest of the great cognac houses." Their newest campaign, featuring Migos rapper Quavo as the face, is all about making a statement and celebrating those who conquer the game by changing it. We spoke with Martell senior brand manager Megan Stroud about her role and their new campaign.
Describe your role as a brand manager and director.
As a senior brand manager on the Martell brand team, the ultimate goal of my role is to unlock and generate new ways to connect with consumers, while maintaining and strengthening the equity and perception of the Martell brand. The brand management function has to wear many hats. At Pernod Ricard, we lead many areas such as overall trademark strategy, business planning, portfolio planning and innovation, budget management, and developing the marketing campaign ecosystem.
What skills should a brand manager and director have?
Someone who excels in the brand management role usually has a skill set that can easily span across both the art and the science required of the role. The art is the creative piece — how to generate amazing content and marketing campaigns that will resonate with consumers. And science is the business side — how to look at big data and make important decisions that will ultimately drive more revenue and profit for the business. Lastly, great communication and project management skills are critical.
How would you describe the Martell Cognac brand?
Martell is one of the oldest and greatest cognac houses in the game. For three centuries, the House of Martell has unapologetically pushed the limits to create some of the boldest and smooth flavors in cognac. The key to our global success has been that we've continued to challenge, innovate and change the game without compromising the lessons learned from our rich heritage. To that end, we're thrilled to have partnered with Quavo to launch our recent "Make Your Statement" campaign. We made a statement with "Martell Blue Swift" when we took VSOP cognac and then finished it in bourbon barrels. When Quavo introduced the triple-flow to rap, he made a statement as well.
What is the "Make Your Statement" campaign about?
Through "Make Your Statement" Martell will celebrate and shine a light on those who have made it by courageously staying true to themselves. Martell will provide a platform to support, inspire and rally behind those who are pushing boundaries and plowing uncharted paths amidst the pursuit of their passions.
Why did you choose Quavo to be the face of this brand launch?
We've partnered with Quavo, as he embodies the spirit of Martell — a leader in his category and a constant innovator who has unapologetically risen to the apex of both music and popular culture. Whether it's shifting the sound and delivery of rap music as we know it, or moving through life with the unwavering confidence of someone firmly grounded in his beliefs, Quavo has solidified himself as a symbol of redefining the path to success.