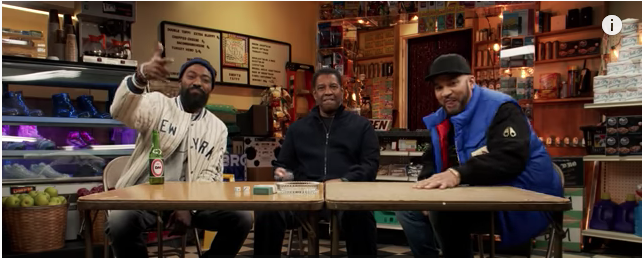 Fans are in their feelings on Monday, July 18, 2022, after hearing the rumor that the uber-successful "Desus & Mero" show on Showtime may have come to a sudden and unceremonious end.
Daniel "Desus Nice" Baker and Joel "The Kid Mero" Martinez have yet to get into the specifics surrounding their current beef that produced the show's alleged demise. However, the Bronx-bred former buddies recently acknowledged that their mega-popular podcast "Bodega Boys" ended back in November 2021 after running for an entire decade.
Desus tried to smooth things over with fans Twitter in June 2022 by trying to ensure fans the show and podcast were coming back, saying: "bodegahive you think I abandoned y'all but the art is coming back. Plz believe in me, I love y'all."
Mero, however, used Reddit to swat away that notion emphatically, saying that their podcast "Bodega Boys" will never return. The spicy correspondence was posted on their Instagram fan page, Bodega Boys Daily: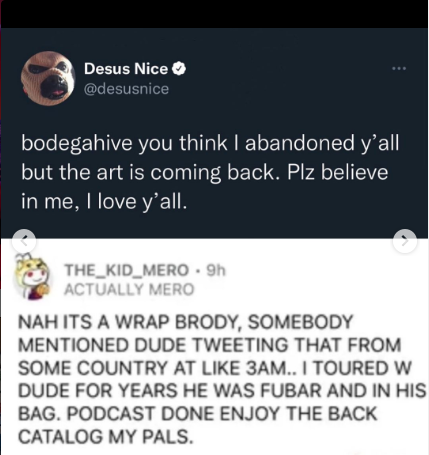 A fan later reposted Mero's message of finality on Twitter while tagging Desus, and Desus responded rejectedly: "I tried y'all."
Fans noticed that even though both of Desus and Mero participated in the recent Major League Baseball Celebrity All-Star Game this past week — and even played on the same team — they treated one another like strangers.
"I was at the all star celebrity game. There was ZERO Interaction between them on the field, even when Mero got a run, Desus skipped congratulating him 😞," one fan said in the comments section the @bodegaboysdaily IG page.
Uproxx reports that even though the podcast is gone, their "Desus & Mero" show was picked up for another year on Showtime. However, no date for the airing of the show has been announced, and there may not ever be one, the publication stated.
As the rumors began flooding social media, fans aired out their despondency on the sudden end of a groundbreaking, transcendent show.
The end of a damn era…I hate that this happened, and all I hope is that the boys are able to someday reconcile their issues and come back together in the future. For now I'll always have the MetroCard that had them on it to remember the good times. #DesusAndMero https://t.co/HCEXmgMbZq

— Miguel Ortiz (@BrownBelpois) July 18, 2022
Wait——I'm late—-why is everyone asking me "is this a coincidence you're putting up the Desus/Mero ep? Been onstage for the last 5 hours what's goin on?!

— Dr. Love (@questlove) July 18, 2022
Me after hearing about The Bodega Boys 😕 pic.twitter.com/AgJTdC6lmv

— Rob Markman 💭 (@RobMarkman) July 18, 2022
Bodega Boys beefin?!? I rebuke it in the name of all that is sucio. #desusandmero pic.twitter.com/vMI2hH6gId

— Bri C. (@bangboombrizy) July 18, 2022
Sad, if true to see #DesusandMero is winding down or over. Mainly because I love it when our folks are able to make their money. But I've personally never found them that entertaining. And I lived in the Bronx for good minute. That was just everyday, outside talk.

— Anthony Braddy (@aebraddy) July 18, 2022
Check out the episode of "Desus and Mero" where they interview the GOAT, Denzel Washington.