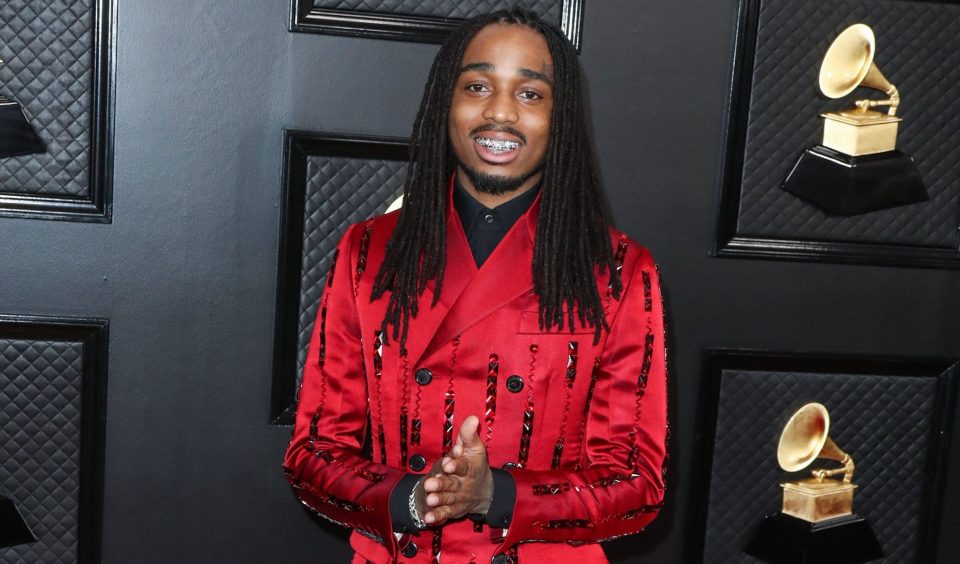 The University of Georgia, emphatically, won another national championship with a 65-7 victory over TCU on Jan. 9 in Los Angeles. It marked the second-consecutive title for the Bulldogs, and featured another appearance from arguably their most-famous fan, Quavo.
Quavo, who grew up on the north side of Atlanta and near Athens, Georgia, has been a celebrity sideline guest for UGA in big games for years now, but he hasn't appeared at a game since the death of nephew and groupmate Takeoff on Oct. 31.
"Hey, Quavo, how you feeling, dawg?" the cameraman asked.
"Long live The Rocket," Quavo said while throwing up the "T," to represent Takeoff. He threw the same "T" up in a picture at Diddy's New Year's party.
"Long live the Rocket"

Quavo gave a shoutout to Takeoff after Georgia's win ❤️🖤 pic.twitter.com/uQmieAYRtC

— SportsCenter (@SportsCenter) January 10, 2023
Quavo spotted outside for the first time since the death of Takeoff. He brought in the New Year with Diddy and Meek Mill‼️🙏🎉 pic.twitter.com/AaMeKJARQ8

— Daily Loud (@DailyLoud) January 1, 2023
A former athlete and record-setting quarterback at Berkmar High School himself, Quavo is also a big Atlanta Hawks fan, and hasn't been to a Hawks' game since Takeoff's death, either.
Quavo celebrated his hometown's championship on the field with a cigar, alongside journalist and Gwinnett County, Georgia native Taylor Rooks.
Quavo was living it up on the field after Georgia won the national championship. pic.twitter.com/8VpTKy3kDC

— MyBookie – Bet With The Best (@MyBookie) January 10, 2023
Quavo victory cigar after Georgia's win 🏆😮‍💨

(via @TaylorRooks) pic.twitter.com/lZ0gSnd3T3

— Bleacher Report (@BleacherReport) January 10, 2023
Quavo recently released his first song and music video since Takeoff's death, "WITHOUT YOU." The tribute to Takeoff has over seven million views only five days after its release.