In summation of their former relationship together, model-turned-actress Eva Marcille basically told ex-boyfriend Kevin McCall to "watch my smoke."
Marcille seems to have moved on from McCall so thoroughly and completely, it's hard to recognize any evidence that they had dealings in the first place — sans their beautiful child. At the end of 2017, McCall seemed to be flashing the personal distress signal with a series of bizarre and disturbing social media posts, including the ones where he disowned his daughter and accused Marcille of practicing witchcraft in front of the child.
In the end, McCall came off as an embittered boyfriend who was left lying on the curb as Marcille's stilettos clicked off into the distance.
Marcille never dignified McCall's Internet invective with a public retort. Instead, she answered him subtly yet powerfully by posting photos of her with her husband-to-be Michael Sterling, an Atlanta entrepreneur, eating at a table with Marcille and McCall's daughter.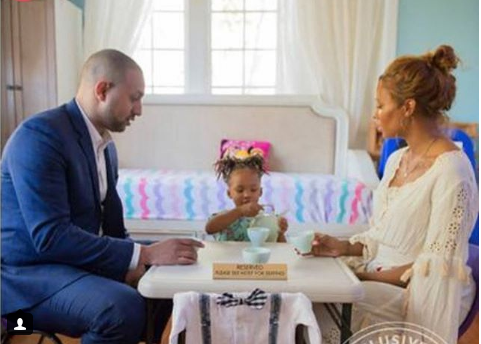 Today, despite the fact that the storms thrashing about in McCall's head appear to have calmed considerably, Marcille has made it unequivocally clear that McCall has no influence on her current way of living whatsoever.
Marcille told Essence that she doesn't even talk to McCall, who incidentally was shot in the foot in Los Angeles last month. In fact, she says Michael Sterling is the father of her daughter now.
Wow.
"We don't have a relationship. He's blocked on all my social media. I have full custody of my daughter and her dad is Michael Sterling, so he is a blast from the past and a memory," she said.
And if that was not enough of a surprise punch in the gut, Marcille let him know further that she'd like for him to get ghost from her life —and stay that way.
"I do not let him affect my day-to-day in any shape, form or fashion, but I do pray [for] his success, and more so than anything, peace of mind. Marley is the priority, the biggest priority of my life, outside of my newest child and my fiancé. And at the end of the day, despite personal feelings, she deserves a level of stability, tranquility and sanity. And [that's] my job as a parent, no matter how hard it is for me to provide that for her, but that's my job," she said.
That has got to hurt.
What do you think of Marcille's tough stance against McCall?