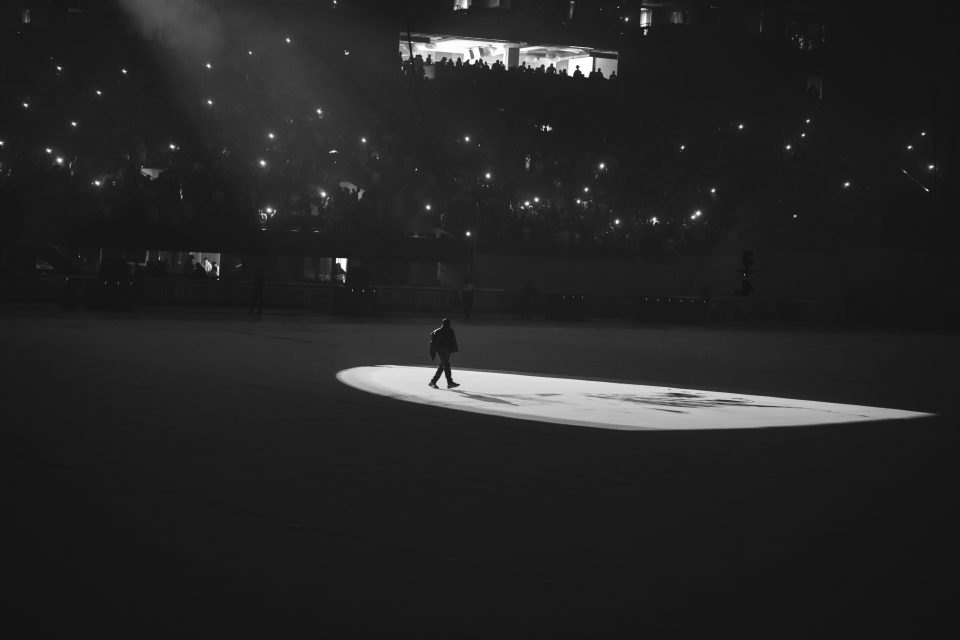 "Daddy's not gone. Daddy's at home."
This line from Donda 2's opening song "True Love" featuring the late xxxtentacion sets the mood for the album.
Ye West's 11th studio album creeps into the billionaire's most intrusive thoughts of dealing with grief. In the second part of the creative series named after his late mother, Donda West, Ye has created and immersed his listeners into the world of art that surrounds it.
Since the rollout of the first installment of Donda, he's worn all-black in all of his public appearances. The album artwork for Donda was all black. He followed over 7,000 Instagram accounts, all of which had all-black profile pictures. At the basketball games for his California school, Donda Academy, Ye and his entire entourage wore all-black. When the school hosted its homecoming, the entire crowd wore all black, the color western-world culture encourages to wear at funerals to show respect to the deceased.
The production on "True Love" is dark, similar to a lot of his sound in the era of 808s & Heartbreak and My Beautiful Dark Twisted Fantasy. While xxxtentacion sings the chorus, Ye raps about his four children the entire track.
The 44-year-old artist is dealing with a public divorce between he and ex-wife Kim Kardashian. As documented in Chike Ozah, J. Ivy and Coodie Simmon's Netflix documentary Jeen-Yuhs, Ye had a limited relationship with his father Ray West growing up after Ray decided to stay in Atlanta for his career instead of following Donda to Chicago when Ye was a young child.
Ye has been vocal about not wanting to give his children the chance to believe he wasn't there for them growing up, falling in line with narratives many Black men have historically battled.
On Donda 2, Ye raps about losing his best man and bride within the past year. He specifically raps he "stopped buying Louis bags after Virgil passed," an ode to Virgil Abloh, and wonders if he ever still crosses his ex's mind.
In the grief stage of anger, he aggressively raps how someone would need security and to never take down family pictures off the refrigerator. On a song with Future, Ye repeatedly asks, "Do I look happy to you?"
Through the emotional stages of grief, unique hints of the popular styles used earlier in his career and A-List features that span from Baby Keem, Migos, Jack Harlow and Soulja Boy — Ye has produced another quality project of art on Donda 2.
As it appears Ye has long-abandoned the backpack-like inception of his career to the trap drums and repetitive lyrics of today, Donda 2 falls right in line with the vision he's always had.
"My album, basically, is a time capsule of whatever year it comes out," Ye said in a 2007 interview on "106 & Park." "Who are the two main artists you remember of 2007? Lil Wayne and T-Pain, so they deserve to be on Kanye West's album when it drops because my album is the pinnacle of what music is at that time."
Donda 2 can be streamed exclusively on his innovative Stem Player device.