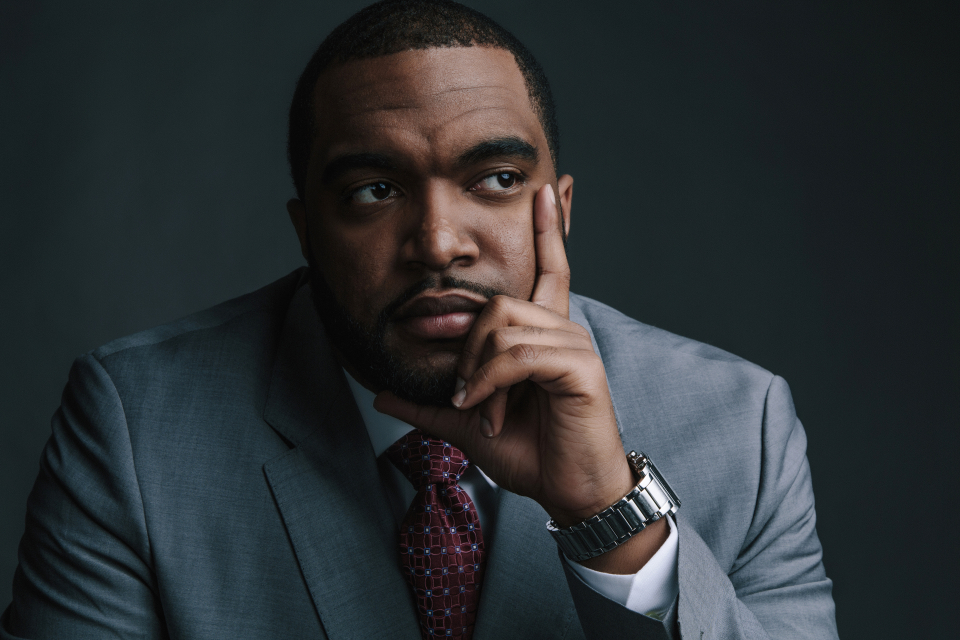 The spotlight is on Brandon Frame, a visionary, leader, social innovator and mentor. He is the chief visionary officer of TheBlackManCan Inc., an award-winning and internationally recognized nonprofit organization focused on celebrating, educating and inspiring boys and men of color. Frame is also the director of Business Partnership and Development at High School Inc., co-founder of the award-winning Twitter chat #hiphoped and the author of Define Yourself, Redefine the World: A Guided Journal for Boys and Men of Color.
For his service to his community, Frame has received the Martin Luther King Jr. Drum Major Award, Hartford Business Journal 40 under 40, Change Maker of the Year, NV Magazine Mover and Shaker, Most Influential People of African Descent and was named Next in Class in the field of education by Black Entertainment Television. Frame's work has been featured in Black Enterprise, Boston Globe, CBS and NBC. Brandon pursues excellence with impeccable effort in all that he does. He is a graduate of Morehouse College and resides in Hartford, Connecticut.
Rolling out had the opportunity to speak with Frame.
What's your story? 
Today, I am an advocate for education, positive indignity development, and accurate media representation of Black men and boys. I started TheBlackManCan (TBMC) in 2010 as a blog to highlight healthy and diverse images and stories about Black men, but over the past eight years, TBMC has evolved into a larger platform that includes free programming for boys ages 12-18, a conscious digital community sharing messages that uplift black men, boys, our families and a network of Black men who are dedicated to teaching, mentoring and empowering our young people.
How did you first get involved with your business? 
M.K Asante is one of my favorite scholars and he said, "Once you make an observation, you have an obligation." While I was attending Morehouse College. I started a mentoring program at Charles R Drew Charter School. There, I made an observation that boys and men of color need to see positive images of themselves. It was clear to me that we needed to have space where our stories were shared. We needed a digital platform where we could see examples of our positive possible. After a year of contemplating, I decided to launch theblackmancan.org in April 2010.
Tell us about a time when things didn't go the way you wanted — like a promotion you wanted and didn't get, or a project that didn't turn out how you had hoped? 
There was this one time that theblackmancan.org crashed. We lost all of the content that was posted. At the time, I wasn't aware of how critical it is to back up content. We literally lost everything and haad to start over from scratch. I looked at this moment and others like it as an opportunity to fail forward and bounce back.
What is your greatest achievement? 
My greatest achievement is following through on the idea God birthed in me by creating TheBlackManCan, despite my initial fear or reservation. By honoring the vision, I've had the fortune to build programs that create a village of support for the sustainable development of boys and men of color. The growth of TBMC has exceeded my initial expectations, which speaks to the importance of small steps by faith.
What has surprised you the most about your business? 
Several things have surprised me about entrepreneurship, one is how things developed organically as I trusted the process and kept working diligently to address feedback as it came.
There's the whole work-life balance, how do you do it all?
Time management is essential. First, I think work-life balance begins with being clear about your priorities for the annual, monthly and daily. We have to map out our plan and act accordingly. Next, I think it's about extreme focus and faith. We have to discipline ourselves to make time for the things that are important to us instead of making excuses because we are afraid of our big dreams. Finally, I think accountability is important. We have to have an inner circle to hold us accountable for personal and professional priorities.
Who has influenced your career? 
There are quite a few people who I could mention, but I'm going to say Kevin Parker who is a photographer and works at Drew Charter school in Atlanta. When I was a senior at Morehouse, I received numerous full-time offers for position in corporate America. He pulled me aside and said, "I think you need to know that you need to follow your passion. You need to find a way to combine your interest in education, youth development, and business." I took his advice and waive my offers to corporate jobs and decided to teach. This catalyzed my career in education and business administration.
What might we be surprised to know about you?
What people might be most surprised about is that I struggled with depression. I often found myself in bouts of serious self-doubt and it got to the point where I convinced myself that I did not need to be on this earth, that I wasn't productive or necessary. Initially, I didn't realize that the intense episodes of despondency that I was having were symptoms of depression, but I had an intervention with a few close friends who encouraged me to strengthen my faith and focus on my mental, emotional, and physical health. I sought out a therapist to help me work through my issues. Now I'm a huge advocate for mental health. I often tell people, especially Black men, that you do not have to suffer in silence, that you can see a therapist and pray at the same time.
Follow this organization @TheBlackManCan