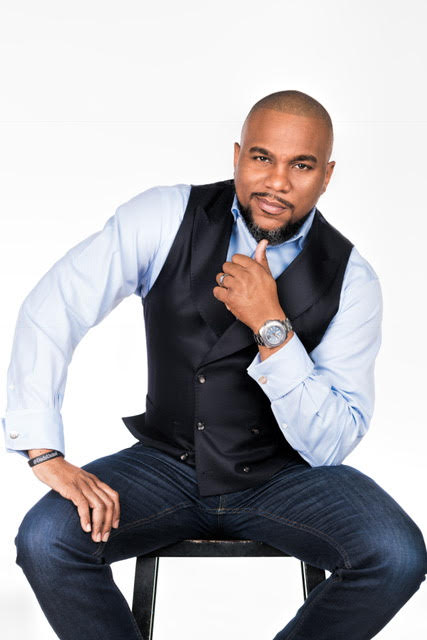 "Don't allow your head to take you, where your heart should be leading you." –Antar Muhammad, author of HeartCore
From the genesis of time, leadership has been defined, interpreted, modeled and executed in great multiplicity and by varying methods. Many have associated leadership with a key person who's in charge, making decisions, giving orders, setting direction, and directing others based on the authority of a title, status, class, birthright or economic positioning. When we strip off the outer layers and take a deep dive to thoroughly examine the essence of leadership, the discovery is profoundly simple — it's the possession of a servant's heart and heart to serve others. We recently had an opportunity to connect with Antar Muhammad in Baltimore during his HeartCore tour to discuss effective servant leadership principles and strategies whether leading your family, project, team, association or organization. Muhammad has more than two decades of impact-driven servant leadership in his capacity as father, husband, advocate, nonprofit founder and executive coordinator to T.D. Jakes.
Is everyone a servant leader?
Everyone has the capacity, but you need to first find fulfillment by having the heart to serve. You can perform the "acts" of service, and not be the person who you truly are. You can often tell if the acts are really driving the leader, because they tend to more concerned about insignificant or superficial things, i.e., the actual time it's taking to complete the task versus completing the task at hand and getting the job done.
What does "HeartCore" mean?
It's a wordplay of hard and core. That's how you have to go after things in life from your heart and with focused intensity. Core means that you are driven [by] your spirit — the innermost essence of who you really are. If you don't learn to lead from your core, then eventually it won't last and won't matter because you never did it from the core (essence) of who you were. You never did it from a pure heart space.
What doesn't come from the heart will eventually begin to erode and eat at you because the mission to serve becomes something that you have to do, not something that you want to do. Otherwise, you'll keep searching for people, places and things to make you happy. When, in fact, no one has the power to make you happy. This power resides on the inside and you won't tap into that source until you are being led from your heart.
How do servant leaders find their passion?
People can tell when you're passionate about something. When you're passionate, you'll get more people to buy into your vision or mission. You don't have to sell anyone on your passion, because you're infused with it, and it spills (overflows) out of you.
HeartCore is about turning your inside passion outward and flowing from that space. It energizes you, refuels you, fulfills you and makes you a better person and people around you better. You'll come to discover that as you're serving others, it's actually serving you! Servant leadership is reciprocal and rewarding.
How does one serve from their core?
When something flows out of your heart, you just find yourself doing it. If you feel it's necessary to have a title first, then you're probably not meant for that assignment and serving from your core.  The reason is that heart service doesn't need titles (external validation) in order to function. Ask yourself questions such as:
– Do I serve unintentionally?
– Do I serve subconsciously?
– Do I serve even when I don't feel like it?
Your heart really has the compass for your life. Don't be driven solely by logic or emotions. If you do things out of your head, then the body naturally follows. However, what's affected the most is your heart, it suffers the consequences — consequences of brokenness, unfulfillment and disappointment. As you're trying to move forward from a wrong place and space, there's constant internal wrestling and preoccupation with what you're actually doing versus what you should be doing. This is why so many feel stuck in capacities that they serve in, they're so far in, and find that it's hard to get out. They're not fully living life the way it's meant to be lived and enjoyed.
Identify when you're not in a posture of servant leadership?
Things will start off great, then over time you'll stick around but inside you feel stuck, frustrated and resentment starts to rise. This is why it's critical to not commit prematurely before you take on a position. Do a serious heart-check inquiry and wait for the right answer. If it's not your passion, if it doesn't flow out of you easily, if you have to be forced to do it,  if someone has to coerce you to do it or if you have to think twice about doing it, then don't do it! It's not for you!
Top indicators to be careful of as you're leading, assess and ask if you are:
– Serving begrudgingly.
– Serving while constantly have to be reminded.
– Serving only out of a sense of obligation.
– Serving with a root of bitterness.
**
Muhammad believes that effective leadership today is about authentically leading with a servant's heart and staying in your HeartCore space at all times. Set open and honest expectations upfront, so all parties will be clear. Test first to see what you desire to undertake is really in your heart or simply out of your head. Feel free to give yourself a 30, 60 or 90-day trial — to see if the assignment is truly for you. Sometimes you were never meant to stay or build a house — you were only supposed to pitch a tent.
Follow and ask Muhammad your toughest servant leadership questions on IG: antarfm