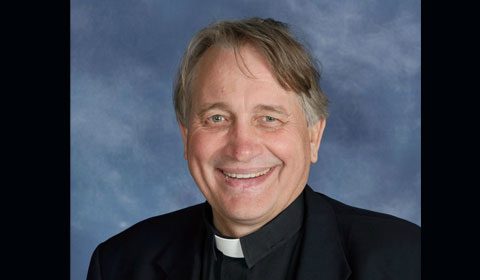 A moment of extreme grief turned into what some would call extremely bad judgment when a priest at St. Mary's Catholic Church in Charlotte Hall, Maryland, called police during the funeral service of a Black family.
In another installment of the "Racial Twilight Zone,"  police reportedly were called to the parish on Tuesday, June 26, during the homegoing service for Agnes Hicks, 54. Hicks had been baptized as a child at St. Mary's, and it was her wish to have her funeral there, too, according to her family. During the emotional final farewell, a mourner accidentally knocked over the sacred chalice at the altar. The chalice was damaged, and Father Michael Briese became enraged at the family.
"That's when all hell broke loose," Hicks' daughter, Shanice Chisely, told the local Fox 5 affiliate. "He literally got on the mic and said, 'There will be no funeral. There will be no mass, no repast. Everyone get the hell out of my church. Get this thing out of my church.' It was very sad. I've never seen anything like that before."
Equally upset by the incident was Hicks' other daughter, Renetta Baker, who stated: "Bad enough we had to bury our own mother yesterday, but for you to say she's a 'thing' and there will be no funeral. You're not a preacher. You're not a pastor. You're not a father of the Lord. You're not any of that. You're the devil."
According to published reports, as the family closed the casket and departed the church, they were met outside by police, who had been summoned by the priest. Officers heard the family's story, determined they had done no wrong and then escorted the family to a funeral home in a neighboring county to continue their funeral.
One mourner captured cell phone footage of the scene, and word soon spread to the Archdiocese of Washington, which issued an apology to the family. The apology read, in part, "What occurred at St. Mary's Parish this morning does not reflect the Catholic Church's fundamental calling to respect and uplift the God-given dignity of every person nor does that incident represent the pastoral approach the priests of the Archdiocese of Washington commit to undertake every day in their ministry."
The incident is under formal investigation by the Catholic Church hierarchy.