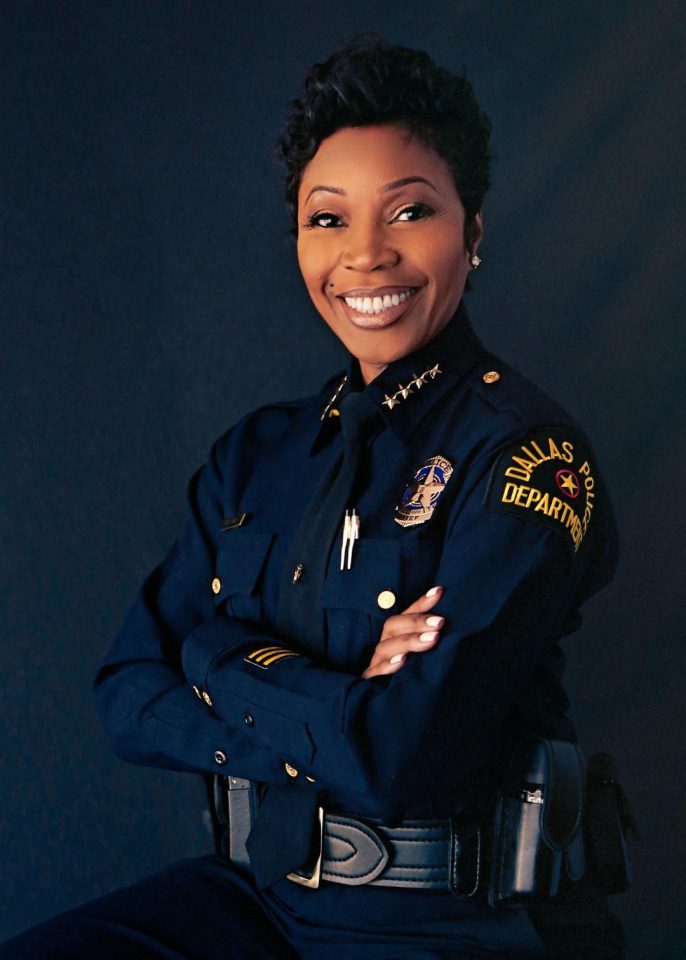 Dallas Police Chief U. Reneé Hall is a trailblazer and a dedicated law enforcement executive with more than 20 years of experience. She was appointed to serve as Dallas's 29th chief of police in 2017 and is the first woman to hold the position in that city's history.
She began her career in the Detroit Police Department, where she rose to the position of deputy chief of police. She has two master's in security administration and intelligence analysis from the University of Detroit Mercy and a bachelor's in criminal justice from Grambling State University. In addition to her work in law enforcement, Hall is a proud member of Delta Sigma Theta Sorority Inc. and the International Women's Forum.
As a Black woman, what do you consider your superpower to be?
My superpower is my faith. My relationship with God humbles me while simultaneously elevating me to unimaginable heights. With God's anointing, all things are possible.
What key skills or qualities make you unique as an African American female leader?
It is unique that I am the first woman to ever hold the position of chief of police for the city of Dallas. Law enforcement is a male-dominated profession. Few women advance to the level of chief. In order to achieve this, we must embody strength and determination to challenge the norm while mastering the knowledge and wisdom of the field. 
Why is it important for women of color to work in leadership roles and decision-making capacities?
Commanding in these roles gives women of color and all women hope — hope that, despite any circumstance or obstacles, we can overcome challenges and exceed the expectations of others, and we do it with excellence.  It all boils down to if you see it, you can achieve it. 
Why is it important for experienced Black women to reach back and help younger women of color?
An experienced woman has overcome the challenges other women may experience early in their careers. … She wants nothing more than her protégés to excel with little to no errors or distractions … and understands that when one of us succeeds, we all succeed.
What are three success habits you implement into your daily routine to maintain your success, sanity and peace of mind?
Daily exercise, prayer and meditation, a healthy diet and proper rest are essential to our overall successes. … I also incorporate reading, primarily focusing on my field of study. It is imperative that we continue to perfect our crafts. Remember: leaders are readers!
What is your proudest achievement?
My proudest achievement is serving in my current role as chief of police. This God-given position allows me to serve as a unifier in the city of Dallas. It allows me to work on bridging gaps between law enforcement and the community through communication and the implementation of programs and community partnerships using 21st century policing.