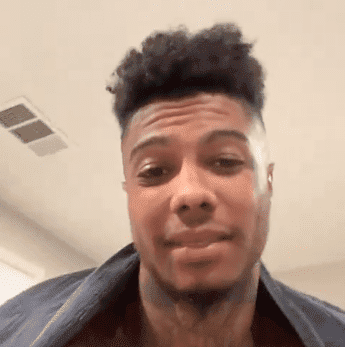 America's most notoriously volatile couple, rapper Blueface and girlfriend Chrisean Rock, got into another violent altercation, this time on the streets of Hollywood, California, where they both laid paws on each other.
The tugging, pulling and punching was captured by a passerby who filmed some of the fight while Blueface and Rock were oblivious of the fact that they were being captured on a cellphone — or were too involved with each other to care.
There is no word from either party on what precipitated the exchange of hands. The videotape picks up when Blueface was clearly trying to walk away multiple times. But Rock was determined to finish out what they had started and repeatedly pulled on Blueface.
"I f—ing hate you my n—-!" she said while grabbing his T-shirt. "The car is that way!"
Things got heated when Rock threw the first punch, at which time Blueface punched back, sending them both tumbling to the ground.
Blueface whose real name is Johnathan Jamall Porter, was on top of her while exclaiming, "Calm down! Let me go!" and then added, "Why do you keep following me?"
Blueface and Chrisean Rock tussling on Hollywood Boulevard pic.twitter.com/6UiMjb8bWA

— Glock Topickz (@Glock_Topickz) August 2, 2022
In May 2022, Blueface was accused of allowing Rock to beat up his mother and sister over some disagreement.
Later that day, following the violent episode, Blueface used his Instagram story to ask Rock what it will take to end the relationship.
"So we're here with Baby D, the heavyweight champ of the world. Don't laugh now, what's funny? What's funny?" he said. 
"She done hit me in my s—. Got a nice lil' shiner," Blueface added. 
Blueface then asked his girlfriend, "What you need to leave me the f— alone? F— it, $100,000. You viral now cuz c'mon. You wanna beat me up in public and s— so wassup?"
Rock replied while still lying in their bed, "I didn't beat you up."
Finally, Blueface asked: "What will it take for us to end this nice and pleasant? $100,000 is pretty pleasant." 
Below is a quick snippet of the fight followed by the conversation in their bedroom about ending this amicably.
https://www.youtube.com/watch?v=6S1UP8ikTG4