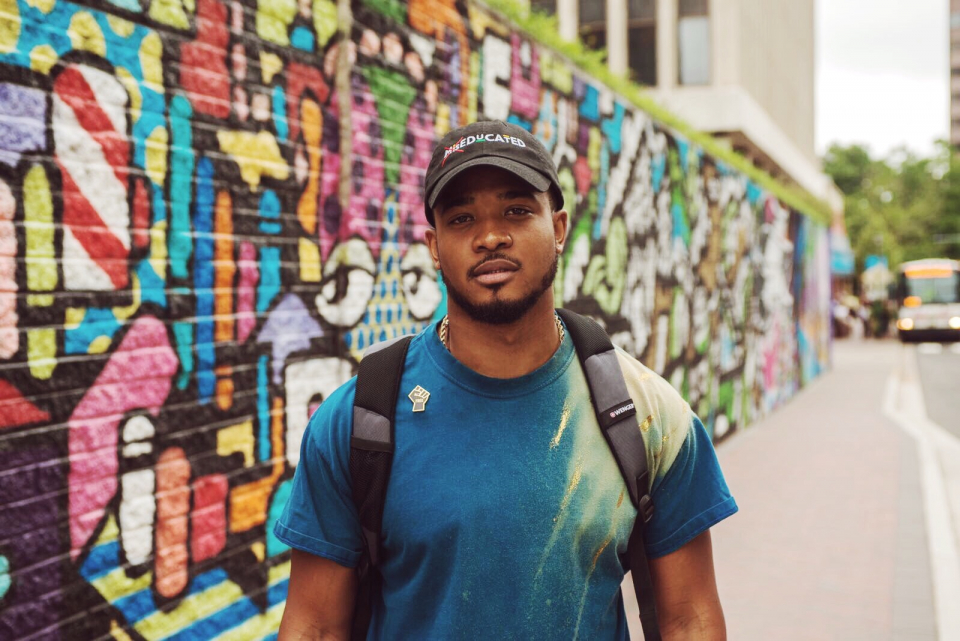 In a copycat social media world, it is often difficult to break through the noise with a distinct and influential voice. Thankfully, this hasn't been a problem for social media strategist Michell Clark. This Washington, D.C., resident has built a brand around remaining authentic on the web and in his community. From hysterically laughing at his tweets to trying his next bar suggestion from Instagram, the influencer provides an irresistible invitation to engage in his life and passions through social media. And judging by his large following and engagement, it isn't hard to see that Clark leaves people entertained and inspired.
Clark is dedicated to helping brands craft a creative, trustworthy voice online. This can be seen through his partnerships with influential companies, his successful music blog for up-and-coming artists, artistic manifesto, and his forever goal to "Make Email Great Again" through his personal newsletter.
Clark has the keys to unlocking successful social media campaigns. Here are a few of best tips and biggest lessons.
From working with companies and influencers, what are the biggest mistakes you see people make when building a voice on social media?
I think the biggest mistake they make is giving creative control to people who are not native to the culture they want to reach. They may have people with a lot of experience in formal aspects of what it takes to run a campaign but they don't understand their audience. Whether it's the millennials who are killing every industry or the Black audience who controls the cool; whatever group they want to reach they simply don't get them. We are out here. Young and black millennials are needed to push value and perspective.
You have such a strong and unique voice on social media, how did you get confident in your message?
The voice you see on Instagram was actually a reaction to not being very confident.  I first started to get more active on Instagram about a year ago and it was very difficult at first. I am a writer, so the concept of a photo shoot or coordinating outfits seemed wild to me. But I started analyzing how I could grow as I potentially saw a job in social media in the future. I wasn't comfortable doing the professional and stereotypical posts so I just decided to be myself and put my personality out there. I'm still growing but I daily try to have more fun.
What about understanding your voice from a strategic standpoint? Is that the best route when starting from zero?
Specifically, Instagram is all about algorithms. To be an influencer on the platform, you have to draw a reaction from your audience. You have to find whatever your niche is; whether sneakers or inspirational or whatever it might be. Pursuing that to the best of your ability and without a filter is key. Do what you find the most fun and fulfilling and then find ways to give that back to people.
Which social media platform do you think is the most beneficial in building an influence and connecting?
It definitely depends on what a company is trying to do. I was a writer and a blogger first, so Twitter was my go-to for spreading information quickly. Instagram is visual based so it's a great platform for influencers and creating conversations. Companies tend to like Instagram the most and it serves well for campaigns. Linkedin is awesome for more interaction with potential clients. Youtube is always great for discussing the things that matter to you. Video travels pretty quickly and it can show the personality behind the writer. Different interests will benefit from different platforms.
Since being on your own, have you had a "this was all worth it" moment?
I feel like I have an "I can't believe I'm doing this" moment at least once a week, whether good or bad. At least once a month I'll have an incrementally better thing happen to me that I wouldn't have been able to pursue if I hadn't left my day job. For example, right now I'm a brand ambassador for the meal prep company BodyReady in D.C. and spread the word about what they do. I also have been working with a yoga studio called Eastside Yoga which lets me decompress and get some stress out and that's only possible because of what I've built with social media. They have all been affirming and awesome things. It's just important to not get stuck on those but appreciate them. I try to get back to work.
For more practical social media tips and inspiration on new entrepreneurship, you can visit Michell's website and follow him at @michellcclark.