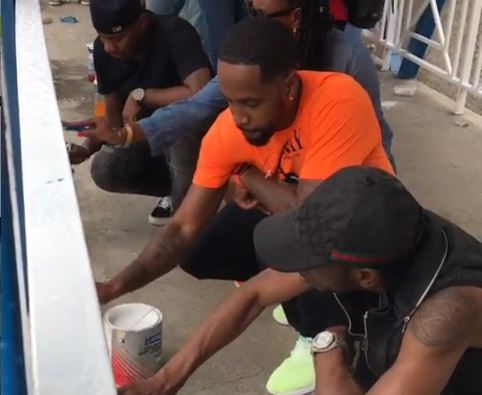 Money means nothing if you can't give back. That's according to rapper Safaree, who spent Thursday, May 23, 2019, participating in a Labor Day project in Kingston, Jamaica.
The rapper joined forces with legendary Jamaican entertainer Bounty Killer to paint sections of the Kingston Public Hospital, which is located in the heart of one of the island's most volatile communities.
According to the rapper's Instagram account, Safaree flew to the island earlier than expected to join the festivities surrounding the public holiday, which is usually commemorated by groups taking part in community-improvement projects.
Safaree shared highlights from his day's activities in a minute-long video on Instagram.
In captioning the video, Safaree joked that Bounty Killer "must have been a painter in his past life" because he did a great job.
"It feels amazing being able to do this in Jamaica with so much love from the people," he added.
It was also revealed that the rapper donated a few air-conditioning units to the hospital.
Safaree is expected to perform at a party being held in Jamaica on Sunday, May 26.