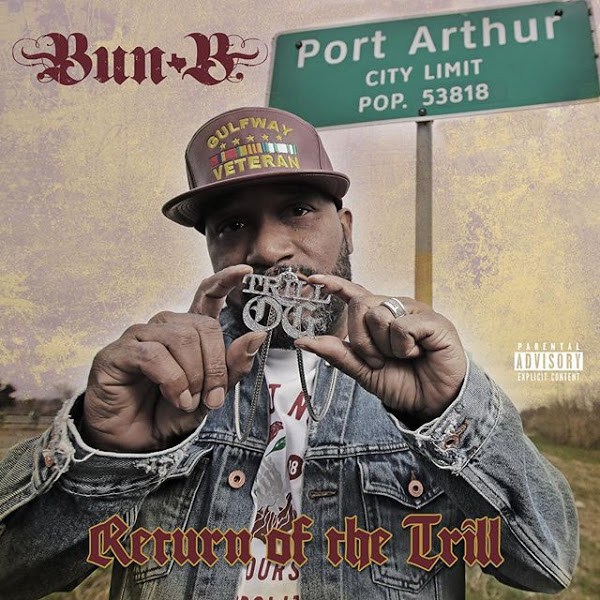 Port Arthur, Texas, OG Bun B, is back after a five-year hiatus with his new album Return of the Trill.
Bun B's last album Trill OG: The Epilogue was released in 2013. The musical career of most rap artists does not exceed a three-year period and, in fact, most peak at year five. So to step away from the booth for five years is a huge gamble, especially for artists trying to re-establish themselves in the ever-changing genre of rap.
Nas and Eminem's careers are legendary in the culture of hip-hop. Both took a five-year break between projects, and the receptions were mixed. Eminem lost fans going in a more pop direction, and Nas' fans wanted more than the seven songs he released on Nasir. Bun B is still sharp with the pen and delivers a balanced project covering 'hood and political issues you can vibe to while being enlightened.
As a respected Southern pioneer in hip-hop, Bun B is one of the few veteran emcees with an extensive catalog of guest appearances on new artists' projects. Bun B and deceased rhyme partner Pimp C of rap group Under Ground Kings were instrumental in putting Southern rap on the hip-hop radar. So when Bun B puts pen to pad, he makes every bar count, shaping and guiding the culture and connecting generations from the perspective of an elder statesman.
Hip-hop culture continues to break down barriers in uncharted territories, including fashion, politics and technology. In 2011, Bernard Freeman, aka Bun B, joined the faculty of Rice University as a distinguished lecturer and taught courses twice a week in the university's School of The Humanities on Hip-Hop and Religion. The Southern rap pioneer also released the Bun B's Rap Coloring Book with author Shea Serrano. As the achievements continue to stack up away from the mic, Bun B has never lost the urge to rip a mic.
This year, Bun B is cruising back into the rap arena, driving a candy-painted slab rolling on swingers, listening to his fifth installment of the Trill movement with Return of The Trill bangin' out the trunk.
Return of the Trill is loaded with features. Thirteen of the 14 tracks have veteran emcees, including T.I., 8ball & MJG, Lil Wayne, Yo Gotti and Run The Jewels, who all deliver dope verses. Big K.R.I.T, a talented producer and rapper, appears on three tracks: "Recognize," "Outta Season" and "Myself." 
Bun B addresses the strained and sometimes deadly encounters between police officers and inner-city citizens on the powerful track "Blood on The Dash."  Pimp C makes another posthumous appearance on the song "U A B—-," conversing about his struggles in the streets. On the same track, Bun B describes the perils of street life and how too many African Americans fall victim to the unjust legal system.
There has always been a soulful vibe throughout Bun B's music, making him an early standout among his peers. Twenty-five years later, that signature vibe is still present on this new album.  The inclusion of soulful singers Gary Clark Jr. and Leon Bridges brings smoothness to the album, balancing out the aggressive content.
Bun B's five-year absence shows no sign of hindering his mic skills. Return of The Trill is an album that will satisfy old fans and grab new ones in the process. 2018 has been a breakthrough year, proving there is a career for 40-year-old rappers in hip-hop. In the words of the great Rakim, "Timeless/cause age don't count in the booth/and your flow stay submerged in the fountain of youth."
Bun B proves that his voice is needed now and, hopefully, for years to come. Stay too real. I mean Trill, my people.
— Jose be 3i3